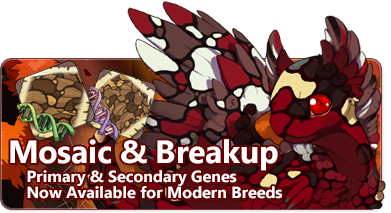 Modern dragons begin displaying an ancient twist; what's old is new again!
---
Mosaic & Breakup
Once only seen on ancient Gaolers, Mosaic and Breakup are now appearing on modern breeds. This primary and secondary gene can be found in the
treasure marketplace
.
---
Thundercrack Carnivale Skin & Accent Contest
There's just a few hours left on our skin contest! The eighth annual Thundercrack Carnivale will begin July 26, 2020, and we're running a skin and accent contest in celebration!
Click here for more information!