Come join us for another Community Update! We've got information for you about our next Item Caption Contest, the FRFanArt Spotlight, and a recap of player created events from the 2019-2020 elemental holiday season!
---
Item Caption Contest
Writers
, if you've ever wanted your blurb to grace an item tooltip, your time has come! Dust off that keyboard and look upon these poor blurb-less items and consider the possibilities! What's this item's story?
The premise of this contest it to take these icons and create a unique caption for their tooltip. The caption must be under 160 characters. If desired, players may rename the item in question along with their caption. Captions can provide facts, short anecdotes, or jokes.
Premise: Write a tooltip for any of the items provided in this contest.
Deadline: Friday July 17, 2020 at 12:00 server time
Length: Less than 160 characters (caption). Less than 30 characters in name if renamed.
Prizes: Winners will be credited in the tooltip of the item, will receive a copy of the item they wrote for, a writer vista applied to their account + 1000 gems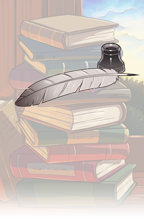 When submitting your entry please format it to include the item icon, item name (you may keep it the same or change it), and item caption.
Quote:
Example Entry:

Name: Wildwood Owlet
Caption: This owlet is wiiiiiiiiiiiiiild. Also its caption is under 160 characters. If its caption were larger it would bust out of its tooltip and we would be sad.
Restrictions
You may submit 1 entry. (total. Pick the item you would like to caption!)
Entries must be written by you - you may not submit on behalf of another player.
Entries may not call out other player's names.
Text submitted to the caption contest must follow the Flight Rising Terms of Use and Rules & Policies.
The submissions thread is for submissions only. Do not post commentary on other entries or ask questions here. Please use the caption contest discussion thread!
---
Fan Art Fridays
For our social media communities, we've introduced Fan Art Friday on
Twitter,
Tumblr,
and
Deviant Art!
How to Participate
Participation is simple—just add
#FRFanArt
when you post your
Flight Rising
fan art!
Why use the hashtag?
Using this hashtag communicates to us that it is okay to reblog, retweet, or even spotlight your work on the
Flight Rising
website!
The Community Update spotlight consists of a thumbnail that links directly to your fan art and your
Flight Rising
username.
We only spotlight fan art that doesn't contain profanity, nudity, etc. If your username or the post itself has that, your fan art is not eligible for a spotlight.
While we may not be able to share all posted fan art, using
#FRFanArt
is also a way to show off your fan art to new people and fellow players when they browse the tag.
Why Social Media?
There are many of our players who don't visit the forums regularly and instead spend their time on various social media platforms. It also means artists can share their art on the platform of their choice and followers can easily find their work.
FRFanArt Friday Spotlight!
Click on the preview to be taken directly to the artist's post!
RavenNocturna (DeviantArt)
primepalinedrome (DeviantArt)
AnonEclipse (DeviantArt)






@thatwhatthing
@Shinko
@ReiOfLight






@MicMac03
@Kaohgumy
@Hululuco






@Chuchuana
@BatCrooks
@Artificiary


And finally...
The
lyrics to the banescale elders' final song
inspired some of your fellow players to compose, arrange, and perform a virtual choir. Follow the link below to hear their music, accompanied by several pieces of
Flight Rising
digital fan art!
---
Flight Festival Hub Recap 2019-2020
Shortly after
Flight Rising
opened in 2013 the community created a special tradition all their own to complement the elemental festivals that continues to this day seven years later!
What is this tradition? In the weeks leading up to a given element's festival week, the members of that particular flight work together to create a series of themed events in the forums for the rest of the
Flight Rising
community to enjoy. These threads all follow their overarching theme in lore, style, and art. The player-run festival hubs are the culmination of a great deal of community-driven organization and teamwork.
How does it work? For each elemental festival there's a main thread to introduce their theme and events to the wider
Flight Rising
community in the Flight Rising Discussion forum. This thread, or festival hub, contains links to their events across happening multiple forums. Click on the images below to be taken to their respective festival hub!
Art: @Softwings
Host: @Deluxe
Traditionally a celebratory event, this year's Brightshine Jubilee is fraught with turmoil and panic. While setting up for the festivities, a dragon who wishes to remain anonymous (We'll call her "Pandora") accidentally opened an ancient box of Lightweaver's past creations. Some of them are harmless enough, but others are very concerning and need to go back where they came from quickly.

A spokesdragon for Light Flight made the following statement:
"We're going to need all hands on deck to round up these creations in time for our festival. Send your dragons to Lightweaver, and she'll put them to work cleaning up Pandora's mess."

Art: @Feinics
Story: @Skydagger
Host: @Avariea

Ah yes. Stormcatch Sanctum. Not willing to wait any longer for official news from the original investigative party, ten flights have sent undercover agents into the Shifting Expanse. Their directives are to confirm rumors that the original Sanctum had been destroyed to make way for a much larger building.

They are to discover why calls for new workers have increased ten-fold and why those workers no longer have any communication with the outside. Perhaps the rumor that has caused the most concern is that there is more to the Sanctum than can be seen from the surface. Just how deep are Lightning's secrets?
Art: @BlackRayser
Story: @Hinumi
Host: @Duchess

After some very long months Smokey the Embear has finally awoken from hibernation, and he's ready to host this year's Flameforger's Festival and spread the wildfires out from the Ashfall Waste to Sornieth! But don't worry, he is a very professional bear and won't cause harm to the land. He aims to teach all dragons about how useful and sometimes necessary fire is for some ecosystems; getting rid of weeds, helping with the reproduction of flora, even using the ash as fertilizer! He will also provide tips, tricks and, of course, many events to make learning fun!

However he is only one big Embear and he will need plenty of help to distribute and take care of the flames wherever they go. Will you help him?
Art: @EclipseMirror
Story: @QueenAlais
Host: @Jazzyleia

Dragons across Arcane have been preparing for weeks for their companions across the lands to come visit for the annual celebrations in the Starfall Isles. Alongside the yearly competitions and activities that Arcane hosts for its festival, this year's celebration also has Arcanites up at the Observatory getting ready to explore two of Sornieth's moons - Viatieth and Oblivieth - due to recent observations suggesting that there was once perhaps life upon them.

Two brave and fearless dragons, Voidwalker and Virgo, have compiled together teams and are ready to begin their trips, each to a different moon to retrieve samples and study what remains. Relax, and enjoy a week of reports from these two dragons as they set off among the stars. There is definitely nothing bad that can happen exploring these two moons.
Art: @PijukVonGacy
Story: @HeadlessKing
Host: @Peyp

The town was not particularly bustling with activity but there is life. Chatter could be heard from the saloon, shopkeepers tend to their wares. The inhabitants strut about and mingle with travelers, it is a friendly community.

You decided to stop here to resupply before moving on. A mirror was hammering down a nail onto the block letters that spell out Ugly Duckling Saloon, you barely missed getting showered with dust as you pushed the saloon door open.

The smell of sweet cactus ale floods your senses, as you take a look around. Some dragons were sipping on their drinks peacefully, a group of faes are in an intense game of goldfish, a wildclaw stands in a corner of the room with a cactus jug on their head while various dragons kept trying to throw peanuts into it. One of the bogsneak bartenders look
Art: @shroudrat
Host: @Skyeline

Autumn is upon us, and the season's harvest is gathered in preparation for the winter months. Food is abundant, and we all know what that means... time for a party! The dragons of Dragonhome are hosting a harvest festival, and all are welcome. Join us for a celebration of food and friendship!
Art: @Postmodern
Story: @Bystander
Host: @Daine

All of Sornieth has been buzzing this past month--after the dark, violence-filled Night of the Nocturne, they have survived to see another round of elemental festivals, starting with the Crystalline Gala. And this year, the Ice flight is throwing a Masquerade Ball, and everyone's invited!

But when you finally make it to the Fortress of Ends, everything is in disarray.

The resident cats are unusually absent, dragons are acting strangely, and... oh no. Treasures have gone missing!

Join in our festivities and help Ice kick off a new decade with a great Masquerade Ball! And perhaps, find out what sort of mysteries are happening in the cold south...

Art: @Twistedeerie
Story: @seradis
Host: @Neroli

This year, we turn to our darkest, deepest depths.

How far do you dare delve? Do you search all in the name of adventure? Lost trinkets and treasure? Perhaps to explore the fauna and flora? Whatever your reason, the Shadowbinder has granted you access to our caves. Send your dragons forth, if you dare...
Art: @Andraya
Story: @argante
Host: @Panderz

(to the tune of "Home on the Range")
"Home, home, far away!
Where the Spirals and Skydancers play!
Where Windsinger flies
Through pure azure skies,
and the breezes are blowing all day! -- Squawk!"

(To the tune "My Bonnie Lies Over the Ocean")
Wind-daddy flew over the ocean
Far over the one thousand seas,
And now the Crescendo spins backwards,
O! Bring back Wind-daddy to me!
Art: @BandedLake
Host, Story: @Kaleidoscope

"Another year," a limp-finned Guardian sighs, "still no Tidelord."

Amid the tangles of the Fishspine Reef lies an unusual scene: part massive archaeological dig, part somber Saturnalia celebration. While Water Flight's expedition to the Outer Ocean lifted the spirits of the Tidelord's abandoned children, it uncovered nothing of his whereabouts, and the Sea soon fell back into a marked gloom. It was only by coincidence that, right before the next year's Wavecrest, an astonishing discovery was made: an ancient city perched next to the Leviathan Trench, its name lost to the time and currents.

Now, this city has become a crossroads for dragons of all sorts-- intrepid adventurers plunge the ruins in search for treasure, while archaeologists pull their scales out at the loss of valuable data; Tidelord-hunters scrape through the sand for any sign of their lost deity, while mourners bemoan their disrespect; locals marvel at the mess this all is, while tourists... do the same. The Wavecrest Saturnalia has never been quite like this.

At least there's not leviathans in these ruins, right?

Right?
Art: @RaiStarDragon
Host: @Valyrie

Nature is throwing a game-a-thon. Join us for a week of board games, RPG's, and general gaming fun! It's time for some much needed recreation!
---
That's it for this update! But before we go, we want to make a call for your questions!
For our next Community Update...
We want your questions for our
Ask the Team
segment!
Ask the Team
Do you have a burning question about
Flight Rising
lore that hasn't been addressed yet? Are you curious about our development process or philosophy? Maybe you're interested in learning more about the game itself?
If you do, send us a message through Contact Us using the category
Ask the Team!
How It Works
Navigate to our Contact Us webform.
Select the "Ask the Team" category in the dropdown menu.
Fill out the required fields, including your question.
Submit your completed webform.
When you use the "Ask the Team" category your question is tagged for the team to review. You will also receive an automated reply confirming receipt of your question.
Ask the Team Answers
Questions submitted to us through the "Ask the Team" category will be answered in our Community Updates.
As Always
We do not provide estimated release dates, privileged information, or discuss account actions with third-parties.