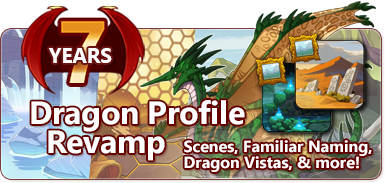 To ring in
Flight Rising's
seventh year
in operation, we've revamped
dragon profiles
and are introducing
Scenes
. Scenes are
cosmetic backdrops
that you can use to further customize your dragons.
---
Seven Years of Gratitude
It's humbling that after seven years in operation,
Flight Rising
is not only going strong, but continuing to grow. You have all played a pivotal role in sharing the colorful world of Sornieth with your friends and family members, enriching our friendly and inclusive community in the process.
Flight Rising
is a game world we develop, but it also feels a lot like a family.
While our anniversaries have typically been boisterous and celebratory, our seven year milestone comes at a time of unspeakable injustice and strife in the world and we felt it was important to call attention to the myriad efforts that are going on to try and heal wounds and make things right. Our hearts ache and our thoughts are with those who are putting their health on the line, saving peoples' lives, speaking out, and protesting for justice. The efforts of brave individuals working and fighting tirelessly everyday are a massive reason any of us are able to enjoy making or playing this game, and they deserve recognition and support for that.
That being said, this day is also for
you
. To those who have been with us since the beginning and to those who have just joined us:
thank you for being a part of our community and our world. We appreciate you
.
As with previous anniversaries, let's take a look back to this
past year
:
We revamped Predict Morphology to allow for saving and sharing of custom morphologies.
The relaxing Mistral Mahjong came to the Fairgrounds.
Boreal Wood & Golem Workshop, veteran coliseum venues, received an overhaul.
We launched a revamped Bestiary, including several sorting, filtering, and categorization options.
The Game Database released, providing all players an essential tool for finding important information about the full catalog of Flight Rising's items, monsters, and stages.
We kicked off 2020 with our newest ancient breed: the Banescale.
Fiona became the newest resident of the Trading Post, bringing her massive menagerie with her.
We returned to YouTube with the official Flight Rising Development Stream.
The Which Waystone PRO Edition delighted players for a 24 hour beta test, only to be reverted indefinitely for further tweaking.
The mysterious Forbidden Portal ripped a hole in time and space, and now dragons can battle monsters from beyond the bounds of Sornieth.
A slew of
quality of life updates
were implemented, many based on suggestions from you:
New reagent conversion recipes were added to Baldwin's Bubbling Brew.
Custom Skins in the Game Database were all updated to include the artist's player ID, both on their database page and in their item tooltips, making it much easier to browse skins by artist.
Which Waystone was implemented at the bottom of the website for mobile devices.
Fiona's Fantastic Familiars received contextual notifications for flattery opportunities.
It is now possible to view only transmutation items in the Baldwin's Bubbling Brew recipe filter.
Lair tab descriptions now support text formatting and emojis.
Selective feeding was implemented, allowing players to prioritize what food stores they want to use to feed their dragons.
Alerts can be cleared entirely.
You can filter Game Database items be whether or not they are stored in your Hoard and/or Vault.
The entire website moved to the secure HTTPS protocol.
A catalog of all possible swaps was added to Swipp's Swap Stand.
Embedded gene scroll and eye vial icons now link to Predict Morphology.
You can view all recipes in Baldwin's Bubbling Brew, regardless of whether your alchemy level is high enough to brew them or not.
It is possible to search apparel by color in the Dressing Room.
Pagination was cleaned up on all areas of the site with an aim to improve navigation on mobile devices.
The lair cap was raised to 210 dragons.
Improved gene selection was added to the search parameters in the Auction House.
It is now easier to search and load your own dragons and saved morphologies in the Dressing Room.
Swipp's Swap Stand will now always offer three swaps.
Several features now integrate with Predict Morphology.
The Dev Tracker was launched, allowing players to view a chronological list of public developer status updates and forum posts.
New and revamped
apparel items
were added:
Starsilks
Steampunk
Unicorn
Tea Time
Tuxedos
Critter Companions
New
genes
and an
eye type
were added:
Opal (Gaoler)
Blossom (Gaoler)
Leopard
Clouded
Innocent Eyes
Veined
Veined (Gaoler)
Fade
Blend
Fans (Gaoler)
Underbelly (Banescale)
Marbled
Swirl
Keel
Glowtail
Whew!
---
Dragon Profile Revamp
For those who are not aware, we are still in the midst of a
site-wide code conversion of Flight Rising to run on a much more modern framework
. As part of this conversion, the team is taking its time to not only convert all existing pages to this new framework, but seizing the opportunity to
update and revamp them
in the process.
Launching today, our newest revamp is that of
Dragon Profiles
.
There are quite a few new things to share, so
let's check it out
:
General Layout Changes
One of the first things you'll notice about dragon profiles is that the
layout has been modified
. During the design process, it dawned on us that there are very specific elements of a dragon that the player has direct customization over, and we wanted to
showcase those most prominently
. To that end, we've made the following layout changes:
We've moved the dragon's equipped apparel, skin, scene, and familiar to the top third of the page so that the elements you have customization control over are the very first thing other players will see.
In the second third of the page, you'll find the dragon's physical info, their battle info (a new section including their level, current EXP, stats, and battle stone layout), and their lineage.
The biography remains in its original spot at the bottom so that it can comfortably expand vertically with the content you create within it.
Scenes
The most significant update to dragon profiles is the new
Scenes
system. Scenes are a brand new
item type
that allow you to
customize a dragon's profile by adding a colorful background behind them
. Functionally, Scenes operate (i.e. are "equipped") like a large piece of apparel that sits behind your dragon. Scenes can be equipped, unequipped, sold, and traded.
A number of Scenes are debuting with this system today, including an anniversary Scene gift for all players, care of
Galore's Glorious Gifts
.
Galore
will be offering
Scene: Remembrance
, available as a gift in addition to some food for your clan to feast on in celebration! This scene can also be brewed at
Baldwin's Bubbling Brew
by alchemists level 2 and above. It is available via both means
until Friday, June 12th at 10:00 server time, after which it will retire.
The following scenes are available via the
treasure marketplace
:
The following scenes are available via the
gem marketplace
:
The following scenes are brewable via
Baldwin's Bubbling Brew
for Alchemists level 10+ and 20+:
The following scenes have been artistically rendered by Swipp's family and they can be yours!
...for a price
:
Scenic Mode
While equipped Scenes will be visible on dragon profiles, they will
display at a low opacity
so that text on the page remains legible. During the development of the system, some on the team thought it was a shame to lose out on the beautiful opaque version of the Scene illustrations. To solve this, we also created
Scenic Mode
: this button will
hide all text and user interface elements aside from the dragon and its familiar
, and bring the background artwork to its full glory. We've even added a handy
"save" button
so that you can capture the art to your device.
Likes
It is now possible to show some appreciation for dragons you think are awesome by
"liking" them
directly on their profiles. At this time, the act of liking does not produce any alerts for the dragon's owner, but we are considering providing players a toggle for that option in the future, if it's desired.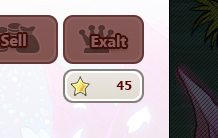 View a Dragon's Morphology
You now have the option to tap a button and
directly view a dragon in Predict Morphology
, right from their profile.
Singular Feeding
It is now possible to
feed a single dragon
by clicking the Feed button on its profile.
Naming Familiars
One of our favorite editions to this revamp is the ability to
name your dragons' familiars
. Simply click the edit button above the familiar's bestiary name to bestow them their new moniker. Familiar names
remain designated forever
until changed, so your familiar will keep its name even if it goes to bond with another dragon in your lair. Additionally, there are no restrictions on how often you can change your familiar's name, so don't be too worried about settling on the perfect one right away.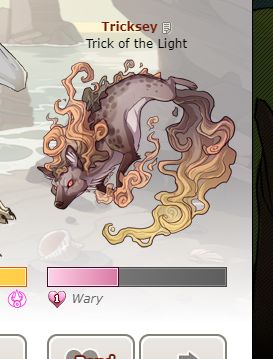 Improvements to the Customization Pages
Clicking the
Customize
button on a dragon's profile will take you to the
customization hub
. We'll detail some of the improvements we've made to each of these various pages.
Apparel & Skins
Leveraging the lessons learned from the
Dressing Room
and the power of the
Game Database
, the following modifications have been made:
Apparel and Skins are now added to the dragon on the same customize page.
You can now sort and filter apparel items by their name, category, prominent gene color, and name.
You can now sort and filter skins by their name, type, prominent gene color, and name.
You can now temporarily hide apparel pieces equipped to the dragon. (NOTE: This does not remove them)
You can now export a dragon's equipped apparel & skin into the Dressing Room as a saved outfit.
Familiars
The following improvements have been made to familiar customization:
You can now filter familiars by name, prominent gene color, bond level, and bond status (for the current day)
The familiar's dragon is shown on this page to aid in pairing coordination
Scenes
As you might have guessed, you can change your dragon's scene on this page. Scenes can be filtered to show unequipped scenes in your inventory and sorted by their name and prominent gene colors found in the artwork.
Vista
Now, wait a second. This is a new one, right?
It sure is! Since their creation, vistas have been a great way to add flair to your forum posts, but while we were revamping the dragon profile, we thought it might be cool to give them a
secondary purpose
. You can now assign any of your unlocked account vistas to as many of your dragons as you want, giving each dragon a bit more personality and setting! Once assigned, the vista will appear
anchored to the left side of their biography
. This can be turned off at any time.
IMPORTANT NOTE: Displaying a vista on a dragon's biography reduces the horizontal space for biography content. If you have already formatted your dragon's biography in the wider format, it may "break". While we were able to preserve and port over everyone's current biographies, there wasn't much we could do in the case of adding a vista to a profile that already had finely-tuned biography content. You can opt not to use a vista to retain the larger space for biographies if desired.
Vistas can be sorted and filtered by their name and prominent gene colors found in the artwork.
---
Site Refactor Update
As we mentioned above, the team has been hard at work over the last few years refactoring
Flight Rising's
codebase to run more efficiently. The goals of the refactor are to
optimize
and update the site's underlying framework to help
future-proof it and allow for further evolution
(either in functionality or style) later down the road. These refactors are not simple ports, but full revamps taking into account
your
feedback on ways to make each feature even better!
This dragon profile revamp was another huge notch in our progress, and we wanted to update everyone on just where we're at with the continuing conversion. As with everything, please know that our project is fluid, and some of these may increase or decrease in priority based on other development factors.
Feature

Flight Rising Main Page
Site Status Box
Player Registration System
Login System
Lair / Hibernal Den
Dragon Profiles


Nesting Grounds




Gathering




Clan Profile




Hoard & Vault


Bestiary
Message Center


Gem Purchases




Marketplace


Auction House
Trading Post
Crim's Collection Cart
Swipp's Swap Stand
Pinkerton's Plundered Pile
Baldwin's Bubbling Brew


Tomo's Trivia Tablet


Crossroads
Custom Skins


Festive Favors


Fairgrounds
Coliseum


Dominance


Forums


World Map


Search
Predict Morphology
Encyclopedia
Media


Achievements

Status

Refactor Complete!
Refactor Complete!
Refactor Complete!
Refactor Complete!
Refactor Complete!
Refactor Complete!


Early Development




Early Development




Early Development




Active Development


Refactor Complete!
Refactor Complete!


Active Development




Active Development


Refactor Complete!
Refactor Complete!
Refactor Complete!
Refactor Complete!
Refactor Complete!
Refactor Complete!


Active Development


Refactor Complete!
Refactor Complete!


Early Development


Refactor Complete!
Refactor Complete!


Early Development


Refactor Complete!


Active Development


Refactor Complete!
Refactor Complete!
Refactor Complete!
Refactor Complete!


Early Development
---
We hope everyone enjoys the new look for dragon profiles. We can't wait to see how creative these pages become with a new element of customization. And again, from the whole team, thank you for playing
Flight Rising
.
~
Flight Rising Engineering Team
~
-
Do you want to hear what I said again? Hoot hoot!
Flight Rising
Knowledge Base
Flight Rising Rules & Policies