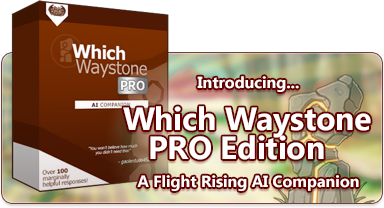 As we race ever toward the
technological singularity
, we derive more and more support from artificial intelligence in how we work, live, and play. Stormlight Workshop is proud to introduce its own foray into the burgeoning world of AI with the
Which Waystone PRO Edition
.
---
Which Waystone PRO Edition
The team here at
Flight Rising
is always on the lookout for ways to implement new technologies into our game, especially if we feel they can positively augment the player experience.
Today, we're proud to unveil the first of hopefully many companion products: the
Which Waystone PRO Edition
.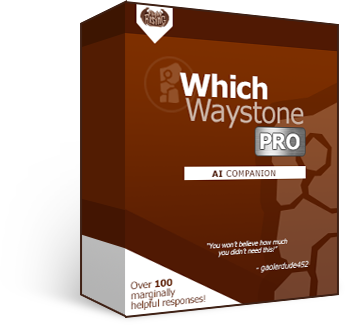 Leveraging AI
Artifical intelligence
—let's face it—is going to rule the world some day. So rather than be hesitant, let's embrace that cold metallic future with open arms!
Which Waystone PRO Edition
analyzes the combined playstyles of thousands of
Flight Rising
players. Combining repeating habits with a proprietary system we're calling
Pixel Dragon Personalities
, the program will generate
quirky, relevant responses to even further guide players in effective ways to play the game
.
And don't worry, we've gone to painstaking lengths to verify that
at no point will this program ever achieve sentience
. For once, mistakes
weren't
made, and we couldn't be more proud of the result!
Free 24-Hour Trial!
As a lucky member of the
Flight Rising
community, you have been selected to take part in a
free 24-Hour trial
of this awesome new program. Upon logging in and visiting pages across the website, you'll find that your original Which Waystone has already been upgraded and
will begin interacting with you immediately
.
The free trial will end on
April 2nd at 06:00 server time
, at which time the Which Waystone will revert to the
Basic Edition
, and you'll need to purchase the
PRO Edition
at full cost. We'll provide more details on that as long as our digital overlords allow us to.
(
NOTE: And don't worry, if you'd rather not participate in the trial, you can always toggle the Which Waystone itself to OFF by visiting the page itself and flipping the switch in the top right corner.)
---
Marva's Back!
It wouldn't be early April without the illustrious
Marva
leaving some goodies around Sornieth.
As of this post, all
Flight Rising
players can visit
Galore's Glorious Gifts
and pick up a mysterious item. Galore will stop offering this gift on
Friday, April 3rd @ 06:00 server time
, at which point
its true purpose will be revealed
, so feel free to
investigate its contents
in the mean time!
(NOTE: Similar to previous years, this item contains an item that likewise contains the previous item, and will loop infinitely until the date and time listed in the previous paragraph. After that point, whatever item you have in your Hoard will transform its contents into something new.)
Flight Rising Developer
Project Management
|
Engineering Team Cheerleader
|
UI Designer