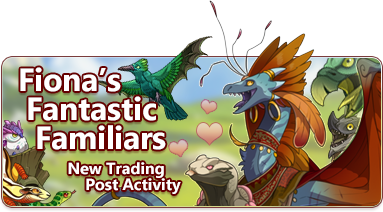 Fiona
and her colorful menagerie have settled into the
Trading Post
, and she needs all the help she can get.
Make friends
with hundreds of familiars and
complete tasks to earn rewards
.
---
(NOTE: Much of this information was available in our last Developer Update)
Fiona's Fantastic Familiars
The newest neighbor in the Trading Post,
Fiona
, is an overconfident caregiver. She's befriended just about every familiar there is, but found herself
maybe
just a little bit in over her head caring for their every need. That's where you come in! Stop by and lend a claw by visiting with her feisty flock by participating in two types of activities:
Feats
&
Flattery
.
Feats
Feats are
familiar-themed tasks
that focus on the act of
reaching bonding level milestones with certain familiars to earn a special reward
. Once the required milestones have been reached Fiona will allow you to claim a prize, which will generally consist of treasure rewards or in some cases, a special
recolored version of the familiar type
in the Feat.
Feats will have varying degrees of difficulty (they may not all require the familiars to be Awakened or they may require progress with a lot more familiars) and typically grant rewards that correspond to how tough they are to complete.
With today's launch, we have a number of
feats
available, and we plan to expand them over time to provide many possible ways of earning rewards.
Flattery
When you visit the
Flattery
page each day, you'll be met with
eight random familiars
, but the feature will generally
prioritize familiars that you don't own, are not Awakened, or a combination of the two
. While these familiars belong to Fiona,
they share the bond level progress you have earned with yours
. Because she's got so many to tend to, she's more than happy to have your assistance in providing some attention to them.
What makes this page interesting is that
interacting with these familiars performs the same function as bonding with them on a dragon's profile
... whether or not you actually own the familiar or have it paired to a dragon in your lair! This might be a little confusing at first, so we'll break it down a bit further:
If a familiar is one you currently own and have paired to a dragon, interacting with it here will perform the normal bond function as if you had done it from the paired dragon's profile.
If a familiar is one you currently don't own, interacting with it here will perform a normal bond function, granting you bond level progress for that familiar family without needing to have the item at all. If you were to obtain the familiar as an item later, that progress would be retained.
As an added bonus
: If a familiar on this page is one you currently own and have paired to a dragon, Fiona will grant you
double the normal treasure
when you interact with it! Think of it kind of like the daily Exalt Bonus, but for familiars!
The goal of the Flattery page is to allow more of our community the ability to
incrementally increase their bond level with familiars they may not have the ability to acquire
(either through time investment, treasure, gems, or familiar exclusivity/retirement). This serves a double purpose: allowing everyone to make more progress toward feats that may feature those missing familiars, and providing another method of "filling out" the Bestiary.
NOTE: The act of interacting with familiars you don't own at Fiona's Fantastic Familiars will not give you the corresponding familiar item, and it will not fulfill the criteria necessary to give the familiar a special background in the Bestiary once you have reached the Awakened bond level with it. In order to earn the special background, you will still need to both achieve its Awakened bond level and to somehow acquire/have the familiar item.
Flight Rising Developer
Project Management
|
Engineering Team Cheerleader
|
UI Designer