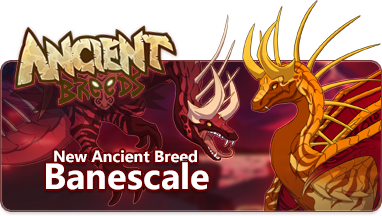 A tragic defeat was not enough to eradicate the fierce and formidable
Banescale
, the ancient forward warriors of the Flamecaller. A
mighty sacrifice
, buried deep and forgotten by history, has paid off. A new dragon breed rises.

We're excited to announce that the next addition to our
ancient breeds
system, the
Banescale
, have now been launched. Ancient Breeds are a way for the
Flight Rising
team to
release more regular dragon content
, with a few
restrictions
to make that possible. You can read about the ancient breed system in our
Developer Update
on the subject.
Banescale
In a long-forgotten battle between the Flamecaller and Icewarden, the mighty
Banescale
paid a devastating price for their aggressive siege on the Southern Icefield, which in the ancient era had been extending its enormous landmass to threaten the continent. Thought to be eradicated, they were long forgotten, until recent events resurrected their final clutch.
The Banescale rejoin dragonkind through their young, hatched from the nurturing warmth of new lava flows created during the events of
Bounty of the Elements
.
You can read more about the revival of the Banescale in our short story,
Born in Fire and Flame
, and gain some knowledge of their characteristics in the
Encyclopedia
.
Unhatched Banescale Eggs
To celebrate the debut of the Banescale breed, all active players can, at this moment, visit
Galore's Glorious Gifts
and pick up
two (2) free Clanbound Unhatched Banescale Eggs
to welcome the long-hidden creatures into their lairs!
You will have until
Monday, December 16th @ 10:30 server time
to claim your gifts.
If you're looking to change
more
of your dragons into Banescale, breed change scrolls will be overstocking in the
Treasure Marketplace
for this next week and at regular amounts thereafter.
Banescale Genes: Unique & Parallel
It wouldn't be an Ancient Breed release without an impressive slate of
unique
and
parallel
genes!
Unique Genes
You can pick up the following
unique
Banescale genes in the
Treasure & Gem Marketplace
:
You can create the following
unique
Banescale genes using
Baldwin's Bubbling Brew
:
You can find the following
unique
Banescale genes by battling monsters in the Coliseum:
You can find the following
unique
Banescale genes by trading items at Swipp's Swap Stand:
Parallel Genes
In addition to the unique genes above,
Banescale can also exhibit parallel genes
that resemble those found in modern dragons. These genes will be available through the same type of gameplay that their identical counterparts are. The
parallel genes
releasing today are:
Banescale Forum Vista
You can show off your newfound Banescale hype by sporting the following
forum vista
, now available in the
Treasure Marketplace
:
New Emojis
A set of adorable
Banescale emojis
are now available!



Upcoming Events
Hold up, there! This December is just getting
started
.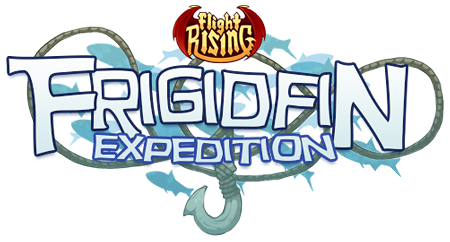 December 12 - 16
Flight Rising's
annual fish-themed "micro-holiday",
Frigidfin Expedition
, is just around the corner. As with last year's version, all Coliseum monsters will grant
50% bonus XP
as well as have a chance to
drop additional fish food items
, so it's an excellent time to
level up your dragons and stock up on food
!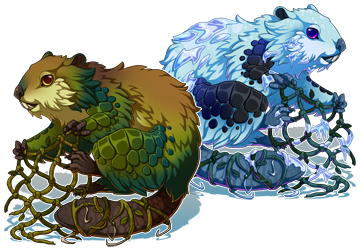 ---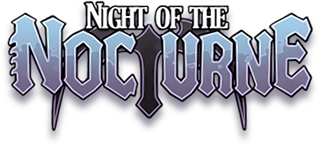 December 22 - January 5
The mischievous Nocturne dragons return for their annual fortnight of mayhem. Strange and whimsical creatures and items will start appearing all over Sornieth. Get your hands on
apparel
,
vistas
, and
familiars
specifically unique to this event!
It's also the only part of the year where you can obtain
Breed Change: Nocturne
and
Unhatched Nocturne Egg
!