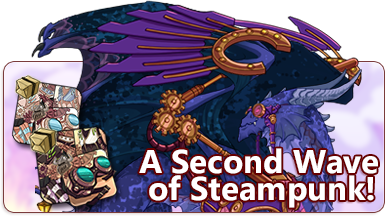 Additional apparel colors, the return of wildclaws, and some changes happening in the game!
Steampunk Refresh
Additional colors of steampunk apparel in a rainbow of colors have been added to the
treasure marketplace
. They also have a rare chance of being found in iron and gilded chests, or given by
Pinkerton
. Perhaps one of these new color variants will suit your dragons!
Steel Steampunk
Iron Steampunk
Rose Gold Steampunk
Porcelain Steampunk
Ceramic Steampunk
Constantan Steampunk
---
Auction House Gene Selector Update
The launch of Gaolers brought with it many new genes - including variations of several already existing modern genes. These new options quickly outgrew the Auction House gene select menu.
That's why today we're happy to release an update to the Auction House to improve gene selection!
Instead of selecting from a single long list of genes, each gene type has two (2) buttons to pull up either a
Modern
or
Ancient
gene list.

The Ancient gene list also includes a dropdown to further filter the results by breed.

---
Wildclaws are Back!
Wildclaw breed change scrolls have
cycled back in stock for one week
. These scrolls will be available until October 26th at 22:00 server time. Perhaps your dragon wishes to become a bit more wild!
---
Riot of Rot Skin Contest
The seventh annual Riot of Rot will begin October 27, 2019, and we're running a skin and accent contest in celebration!
Click here for more information!

---
From HTTP to HTTPS
As part of ongoing security improvements,
Flight Rising
will begin using
the more secure HTTPS protocol
on
all pages and resources
following a scheduled maintenance period from
06:00 - 07:00 Server Time, Monday, October 21, 2019.
---
New Glorious Gifts
Galore
has a modest selection of items that your clan may find useful. Be sure to collect them before the end of
October 23rd
!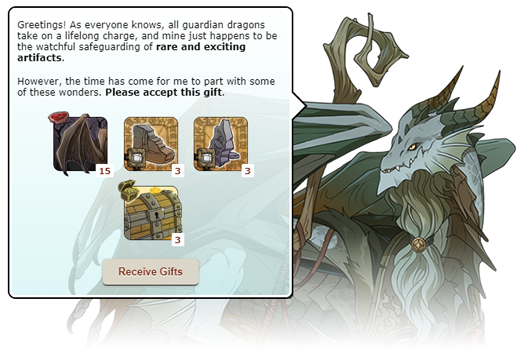 ---
Additional Updates
: 10/21/19
The steampunk spats on wildclaw females appropriately show the tail again.
The goggles are now transparent on all colors.
The highlight color on the Constantan tail bauble has been corrected.