In this
Developer Update
, we shed some light on our current plans for the rollout of
player-versus-player
content in the
Coliseum
. We'll talk about
friend battles
,
ranked battles
, and
balance changes
.
---
Hello! It's been awhile since we've provided information about our
PVP
update to the Coliseum, so today's
Developer Update
is going to go into a little more detail about our current game plan for how we're going to launch it, and what you might expect.
Please keep in mind that as with all
Developer Updates
,
we are still in the planning stages and much of what you see is still being modified and discussed
. The feature is pretty malleable still, but as it starts to take shape we thought we'd include you all in that journey!
As a note: the screenshots below are from a
mock-up/prototype
and in no way reflect the final design, colors, imagery, etc. Prototyping is how we quickly lay out our ideas for the UI and user experience. These early designs are then passed to the engineering team to start creating something functional.
---
Phase 1: Friend Battles Beta & Launch
We have decided to break apart the launch of the PVP system into two distinct chunks, the first being our brand new
Friend Battles
system. The system would debut in
beta
for a period of time, then launch soon after.
So what are they?
Friend Battles are
private duels
that you can invite
anyone on your friends list
to participate in. When Friend Battle is selected in the PVP menu, the initiator will be pulled into a private
lobby
from which they can invite a friend to battle against. Dueling partners
must be on one another's friends list to battle
, and must both be within the Coliseum when the invite is sent. No matter what they're doing at the time, the invited friend will receive a notification that they have been invited to a battle and can easily accept or decline the invitation.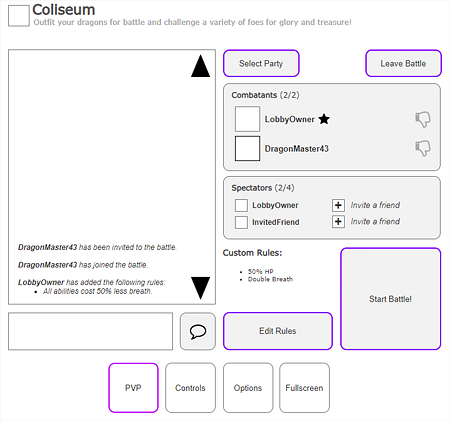 Custom Rules
Here's a fun one. Within the lobby, it will be possible for the lobby owner to
modify the battle by way of several custom rules
if they so wish. We plan to have lots of custom rules available for launch, but some examples might be:
All dragons start with 50% less HP.
All abilities cost 50% less breath to use.
The Eliminate ability cannot be used.
All dragons are visually replaced by their attached familiars (if any).
All dragons take periodic damage.
All dragons are confused.
Obviously the jury is still out on whether we can functionally pull some of these off, but we think the addition of custom rules will make for some really interesting or hilarious outcomes.
(If you have any suggestions, please be sure to post them in the Suggestions Forum, too!)
Here's an example of what the Custom Rules window might look like, with a few extra rule ideas:
Spectators
One of the things we're most excited for is the addition of
spectators
. In our current plans, both combatants will be able to invite friends into the lobby to participate as spectators, who get a front row seat to watch the battle, without knowing what's going to happen next.
Our current ideas are to allow spectator players to add to the thrill of the match by being able to
perform actions like cheering, waving pennants, or throwing confetti
. The combatants will be sure to get hyped up by the crowd!
Battle Adjustments & Balance Changes
By launching Friend Battles first, it also allows us the great opportunity to workshop
battle adjustments
and
ability balance changes
. For the latter, our aim is to hopefully make some lesser-used abilities a little more interesting, desirable, and fun - allowing you to deviate from common/popular builds and still be competitive.
Because the functionality of stats and abilities does not change between PVE
(player versus environment)
and PVP
(player versus player)
modes,
we are also taking careful steps to make sure that what already works well in the current Monster Battle system remains mostly intact
(Don't worry, we don't have any plans to touch Scratch, Shred, Eliminate, etc)
. We feel there is room to improve some of the weaker/less interesting abilities without compromising the familiar meta that has already been long established.
That being said, some examples of
battle adjustments
we may make for Friend Battles will likely include:
Consumable items cannot be used, but are rather replaced with a selection of special "team abilities" that are available to both combatants to use once per battle as an emergency. (perhaps a team-wide heal or a large AOE attack)
Energy loss is disabled.
Looking forward, we will make sure Friend Battles in no way touch your Ranked Battle matchmaking rank. This way you can casually battle friends without worrying about affecting your place on the leaderboards.
As far as examples for
ability balance changes
...let's say that we wanted to try and give the tank dragons out there some more love and make them more viable in team compositions. We may implement changes to abilities that look something like this:
Anticipate: For as long as Anticipate is active on a dragon, make it 50% more likely an enemy target will strike them.
Guard: Any time Guard is successful, heal the guarded dragon for 20% of its max HP.
Friend Battles gives us a great community playground with which to try these kinds of modifications out and adjust them as necessary based on feedback. Expect us to be very active during the Friend Battle beta process, fine-tuning balance changes to be as fun and fair as possible.
---
Phase 2: Ranked Battles
Once we've had the opportunity to beta test Friend Battles and are sure that our ability balance changes are in a good spot, we can then move onto
phase 2
of our PVP launch:
Ranked Battles
!
For those that seek fame and glory, the Ranked Battle system allows you to venture into the Coliseum to be
matched with an unknown opponent player of comparable strength and level
. Ranked Battles have no lobby system, spectators, or custom rules,
it's just straight to business!
PVP Accolades & Incentives
Whoever wins a Ranked Battle will see their matchmaking rank improve, helping them climb the Coliseum
leaderboards
. The leaderboards will be available for everyone to see within the Coliseum's PVP main menu.
In addition to the leaderboards, however, we're also planning on adding a few more cool
incentives
for would-be Ranked Battle combatants. Here are just a few examples
(not final)
of some of the things we're workshopping or brainstorming:
Top dragons in several kinds of categories (e.g. highest melee damage, highest magical damage, most wins, etc.) may temporarily show up on the Coliseum PVP main menu for everyone to admire.
You can earn progressively more awesome battle-themed forum vistas with accumulated Ranked Battle victories. Maybe you get a cool little crown or trophy near your forum avatar.
You can purchase special clanbound battle-themed apparel to strike fear into the hearts of your adversaries.
Our goal with Ranked Battle rewards is providing players who like PVP with something cool that doesn't touch the game economy or provide anyone with real gameplay advantages. As always, we're open to feedback or suggestions on things you think might make the Ranked Battle system epic.
---
Queue or Accept Invites from Anywhere
Finally, one of the features the team is really looking forward to is a
rehaul of how we approach awaiting invites or ranked match pairings
.
To give an example: in previous versions of the Ranked Battle system, players would be able to queue to find a battle partner, but would need to remain on a static screen while they waited. This severely limited the experience, and resulted in higher queue times. It also prevented the player from using the Coliseum for anything else. Not great.
Starting with the launch of Friend Battles
(and then later with Ranked Battles)
,
you will be able to use any of the following Coliseum areas
while awaiting invites from friends
(or for the matchmaking system to find you an opponent)
:
The Monster Battle main menu
Abilities & Stats page
Organize Party page
Monster Battles
The PVP main menu
The leaderboards
When an invite arrives or an opponent is found, you will be notified in the
bottom navigation menu
. You'll have a fairly generous window of time to accept or decline the invitation before it expires. This should be extremely helpful if you are, say, farming materials in a Monster Battle or maybe outfitting your current dragon team with new battle stones.
If possible, we'd also like to provide an approximate wait time for Ranked Battles. Here's an example of what the queue window for that might look like:
We're very hopeful that opening up the rest of the Coliseum while waiting for an invite or matchmaking pairing will encourage more players to venture into the system, creating shorter queue times overall.
---
Final Notes & Information
We
do not currently have a date set
for the Friend Battle beta test, but we will make sure to announce it early enough to allow everyone to plan for its implementation. Our goal with the test is to really put the technical parts of the system through their paces and gain a lot of valuable data to help us optimize it for official launch. One of the major reasons we are launching Friend Battles prior to Ranked Battles is to ensure that the technology behind battles that involve multiple players is as solid as possible before we begin assigning matchmaking ranks and distributing rewards.
We encourage everyone—even if you've never tried it before—to participate in some Friend Battles while we're still tinkering. The more players that use the feature, the more well-rounded it will be!
That's all for now. See you next time!
-X
Flight Rising Developer
Project Management
|
Engineering Team Cheerleader
|
UI Designer