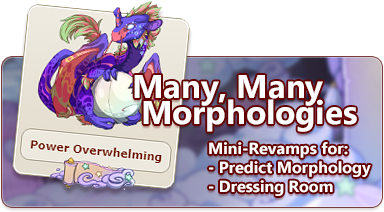 Make, maintain, and manage many morphologies in this mini-revamp to Predict Morphology and even incorporate them into outfits you create in the Dressing Room!
---
Savin' Your Scryin'
For as long as the
Scrying Workshop
has been a feature, we've received requests to add functionality for saving your favorite
morphological combinations
to view later. We're happy to announce that as of today, you can do just that!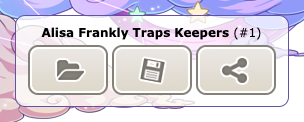 After setting the parameters of a morphology to your liking, you can distill those choices down into a
saved set
. You can even
name the morphology
you create to more easily find it later or share it with others. An array of filters should also make it a bit easier to find the design you're looking for:
Saving morphologies will look familiar to many, as it operates almost exactly like outfits in the
Dressing Room
. You can save up to a maximum of
300
morphologies to your account. You can also utilize our new
unique bbcode widget
to share them on the forums! Here are a selection of morphologies we've created as examples to help kick the system off:
Celestial Sight
Bath Needed
Mean Green Bean
Alisa Frankly Traps Keepers
Pumpkin Spice Latte
Crystal Clear
Bird of Prey
SuperMirror
Pleasantly Surprised
---
Morphologies & Outfits
Almost as popular as the request to save morphologies, there's been tons of great feedback about allowing morphologies to be used
within the outfit editor
of the Dressing Room.
Well, that time is also here! In addition to dressing up
real dragons
and
mannequins
, you can now
import a saved morphology
into the outfit editor, making it possible to create a 100% theoretical dragon & accompanying outfit from start-to-finish, and share it with the community. Whether you're using the new functionality to create a blueprint for a goal you'd like to achieve or as creative tool for lore or forum games, these expanded features should provide you with lots of options.
---
Additional Updates
While they cannot wear apparel, it is now possible to preview skins on Ancient Breed dragons within the Dressing Room.
~
Flight Rising Engineering Team
~
-
Do you want to hear what I said again? Hoot hoot!
Flight Rising
Knowledge Base
Flight Rising Rules & Policies