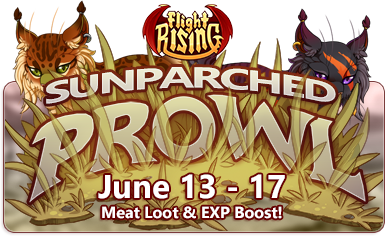 The
herds are on the move and their numbers are exploding
. Novice and expert hunters alike will have an easy time scoring game if they stick to tall grasses and rocky outcrops.
---
Sunparched Prowl
, one of
Flight Rising's
quarterly "micro-holidays", is in full swing! From
Thursday, June 13th
(06:00 Server Time) to
Monday, June 17th
(06:00 Server Time), all players will experience a couple of battle-related
boosts
!
Bountiful Battles
For the duration of Sunparched Prowl, all
all Coliseum enemies will have the chance to drop meat food items in addition to their normal loot
. Dragon clans everywhere are taking this time to
stock up
on shanks, flanks, ribs, haunches, steaks, and more to keep them satisfied until the autumn.
Battle EXP Boost
During the event, all battles will yield
50% additional EXP
, so now is a perfect time for dragons to train. Grab your newest team and head out into battle!
Take Care in the Tall Grass
Dragonkind are not the only ones taking advantage of the burgeoning herds and expanding flocks. As the savannas, forests, and tundras play host to many more hooves than usual, calculating cats join the prowl. A couple species of wildcat use their expert eyes and noses to track small and large game alike. For the duration of Sunparched Prowl, these clever familiars will
drop fairly commonly in the Coliseum and rarely during Hunting
. Once the herds numbers have been responsibly culled, they'll go back into hiding, but there's always a chance you may run into one or two while
Hunting
.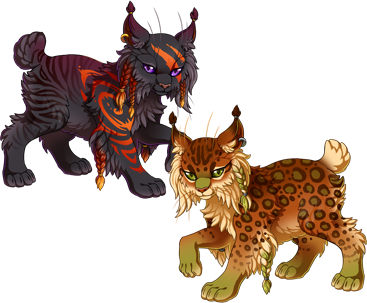 Flight Rising Developer
Project Management
|
Engineering Team Cheerleader
|
UI Designer