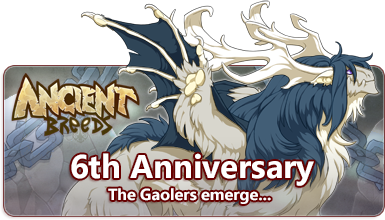 It's time to celebrate!
Flight Rising's
6th anniversary celebration
has officially kicked off, and to commemorate this moment, we're launching the very first of our
Ancient Breeds
, the ruthless and reclusive
Gaolers
…

Thank You For Another Incredible Year
As of this posting,
Flight Rising
has completed its
sixth year of operation
! It's hard to believe that just a few short years ago our somewhat small project was first revealed to the world, and now we're sharing and building it with all of you. Although the journey has had its bumps and bruises, it has been extremely rewarding and exciting to see Sornieth take on a life of its own, spurred by the creativity and dedication of several hundred thousand players.
Whether you've been a part of our community from the very beginning, or are taking your very first steps today, we want to thank you very much for playing with us.
As a part of our 6th Anniversary Celebration (and because we needed an open-ended maintenance),
all dragons on the site have had their energy topped off
!
Before we jump into the festivities, let's take a
quick look back on this past year
:
We started off by releasing our newest Fairground game, Glimmer and Gloom.
We welcomed Roundsey and her weekly raffle roulette to the Trading Post.
We introduced new seasonal food-themed micro-holidays of

Drakeharvest
Frigidfin Expedition
Springswarm

We launched a brand new Coliseum stage: Thunderhead Savanna.
Along with our partners at Hivemill, we launched our official line of Flight Rising merchandise.
The forums have lit up with expression thanks to our emoji system.
We revamped the Dragon Lair and launched the Hibernal Den, allowing players to store and organize up to a combined total 605 dragons!
The familiars took over for a day while Marva showered the realm in creative masks.
We welcomed Galore the relic-keeper and his glorious gifts to the Trading Post. (Psst, by the way, go check out his stall!)
Several new genes were added:

Starmap
Constellation
Ringlets
Lionfish
Noxtide
Peacock
Laced
Edged

Several new eye types were added:
Dragons all over the realm can now sport new apparel in the form of scale armor, bows, dresses, flowers, and silks.
In addition to new features and content, our engineering team was hard at work making some feature revamps and quality of life improvements, many suggested by you!

Predict Morphology received several optimizations and extra options.
It is now possible to see the server date when mousing over the clock.
The skin preview window was enabled in more areas.
The familiar preview window was enabled in more areas.
The process of reordering previously-approved custom skins was streamlined.
It's now easy to see that a dragon in your lair is attached to a Crossroads trade.
Keyboard controls were added to dragon profiles to make paging through dragons a bit easier.
It is now possible to recover your username on the login page.
A search parameter for eternally youthful dragons was added to the Auction House.
Baldwin's Bubbling Brew recipes received more robust search and filter options.
The Dressing Room received substantial interaction, search, filter, and visibility options.
"<3"s have returned to the forum.
Players now receive an alert when Baldwin brews are completed.
The forum vista selection screen received some improvements.
Forum threads now have better breadcrumb navigation.
Quote trees in forum threads have been truncated to only show the last three.
It is now possible to mute forum pings in the Account Settings.
It is now possible to unlink your account from the one listed as its referrer.
The Dragon Lair and Hibernal Den now allow you to filter by dragons that meet the current day's exalt bonuses.

We're excited to announce that the first of our
ancient breeds
, the
Gaolers
, have now been launched. Ancient Breeds are a way for the
Flight Rising
team to
release more regular dragon content
(pretty important for a dragon game!), but need to follow a few
restrictions
to make that possible. You can read about the ancient breed system in our
Developer Update
on the subject.
In addition to the details linked in the above Developer Update, we have a few more details to share with you:
While ancient breed dragons will have their own pool of unique genes, they will adhere to the existing Eye Types system; we don't have plans of releasing ancient-specific eye types.
Due to their breeding restrictions, it is possible for ancient breed dragons to produce 5-egg nests.
Ancient breed dragons can battle in the Coliseum.
Gaolers
The reclusive Gaolers (pronounced
jail·ers
) have long hidden themselves away from the world. Designed and conscripted by the Icewarden in the early days of the
Fourth Age
, these imposing creatures were tasked indefinitely with the duty of
guarding the frosty prisons holding back the remnants of the Shade and the monstrous forms they took
.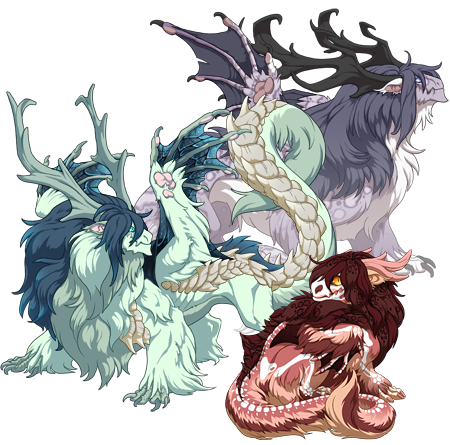 For millennia, they maintained their vast subterranean clans in
complete isolation
, but as a new age dawns, they have a renewed purpose to venture out…
You can read more about the reemergence of the Gaolers in our short story,
Cracks in the Ice
, and gain some knowledge of their characteristics in the
Encyclopedia
.
Gaoler Breed Change Scrolls
To celebrate the launch of the Ancient Breeds system and the debut of the Gaoler breed, all active players can, at this moment, visit
Galore's Glorious Gifts
and pick up
two (2) free Clanbound Breed Change: Gaoler scrolls
to immediately use on dragons in their clan!
You will have until
Saturday, June 15th @ 10:00 server time
to claim your gifts.
If you're looking to change
more
of your dragons into Gaolers, breed change scrolls will be overstocking in the
Treasure Marketplace
for this next week and at regular amounts thereafter.
Gaoler Genes: Unique & Parallel
When we were
laying out our development plans
, we shared that although ancient dragons can't breed with modern dragons and can't wear apparel, this exclusivity allowed us to both
explore dragon designs that didn't adhere to past standards
(one head, four legs, two large wings, etc.) as well as create
wild and unique silhouette-breaking genes
. We're thrilled to release some of those genes today alongside the breed.
Unique Genes
You can pick up the following
unique
Gaoler genes in the
Treasure & Gem Marketplace
:
You can create the following
unique
Gaoler genes using
Baldwin's Bubbling Brew
:
You can find the following
unique
Gaoler genes by battling monsters in the Coliseum:
While the above genes are awesome, we realized that
only
creating unique genes would start to get difficult as more ancient breeds joined the fold, and many of you would love to have Gaolers sporting some of the
genes you've grown to love over the years
...
Parallel Genes
So, in addition to the unique genes above,
Gaolers can also exhibit parallel genes
that resemble those found in modern dragons. These genes will be available through the same type of gameplay that their identical counterparts are. The
parallel genes
releasing today are:
Gaoler Forum Vista
You can show off your newfound Gaoler hype by sporting the following
forum vista
, now available in the
Treasure Marketplace
:

A Familiar Gift
It almost wouldn't be an anniversary if we didn't welcome a new dragon buddy onto the scene. Meet the
Dripcave Deputy
, also available at
Galore's Glorious Gifts
! This impish familiar is a loyal minion to the Gaolers and help them oversee their wards.
It will also be able to craft additional copies of this familiar within
Baldwin's Bubbling Brew
until
Tuesday, June 11th 10:00 Server Time
.

New Emojis
A set of adorable
Gaoler emojis
are now available!



The Search is On
As our dragon population continues to grow,
searching and filtering those dragons
becomes more important - and a greater challenge. With this is mind,
Dragon Search
has been revamped from the ground up to provide
more search options
and
faster results
!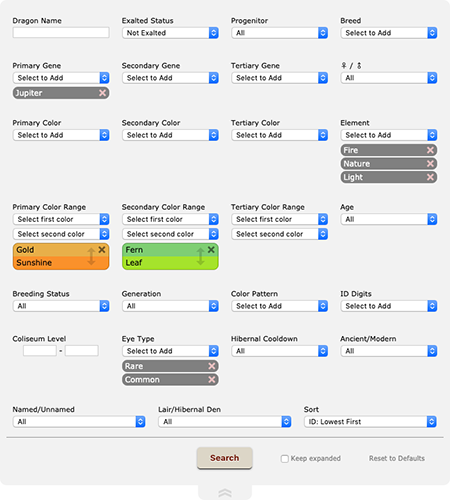 You may recognize many of these search options from the
Auction House
, but this search includes a few
completely new ones
as well. Happy searching!

The Road Ahead
Every year we like to try and provide the community with a little insight on some of the features or goodies we're
setting goals to work on
in the following calendar year. Though we may not always meet these goals in an exact timeframe, we still think it's valuable for us to publicly acknowledge them; it also gives everyone (including us) something to look forward to!
Here are
some
(not
all
)
of the projects
our team would like to tackle in the next year. As a note, most of these listed are revamps, because we still would love to save some surprises!
Complete and launch the revamped World Map
As many of you know, this was a goal
set forth in our post during last year's anniversary
, and we've provided a
few details
about it along the way. Unfortunately, it wasn't quite ready for primetime this year. We're making excellent progress and the art is superb, however, it's taking longer than we anticipated.
One of the systems we haven't touched on yet that we're very excited for is
lair locations
. Under the current system, your lair location was dictated solely on its capacity (how many dragon slots you had), and you couldn't change that. With the launch of the World Map revamp, you will be given the option to
designate where your lair exists from a list of the locations in your elemental region
. While some of these locations still need to be unlocked via lair slot expansions, you still have the freedom to move your lair to any of the areas you have unlocked.
(EXAMPLE: an ancient fire lair can move its lair location from the Great Furnace back to the Emberglow Hearth, or any location in between.)
Though our team has had to make some modifications to its workflow over the past year due to a team member injury, we're hoping this is one of the first things we wrap up. As always, we'll keep you posted on any changes.
Relaunch Coliseum PvP
Due to its complexity, we had to sideline the PvP (player-versus-player) functionality of the Coliseum when we launched its
revamp
. We're currently looking into ways of making PvP a little more approachable, performant, as well as ways to provide players who like this style of gameplay a little more incentive to jump in and continue battling on a regular basis. While we don't have anything more to share right now, we've got lots of ideas brewing and welcome your thoughts in the Suggestions forum.
Revamp the Bestiary
This is another one of those "long time coming" items, but we'd love to tackle a
Bestiary revamp
in the next year. As we do with many of our revamps, our aim will be to not only improve the coding of the feature, but provide some
new and helpful usability improvements
to it, keeping in mind player feedback collected over time.
Launch another ancient breed, create more daily activities, and roll out continued quality of life improvements.
These are a bit more nebulous plans, but absolutely things that we are working on as a team. Though we may not meet all of these and there's a lot we would love to tell you, we'll leave things there and continue to make announcements as they approach.

Achievement System Deactivation (August 2019)
As we mentioned in a
previous Dev Update
, we will be
retiring the legacy achievements system
while we work on its bigger and better replacement. As promised, we are announcing this shutdown well ahead of time so that you have ample time to earn any legacy achievements that you may be working towards.
The achievements system will be deactivated on
Friday, August 16 at 6:00 server time
.

Upcoming Micro-Holiday: Sunparched Prowl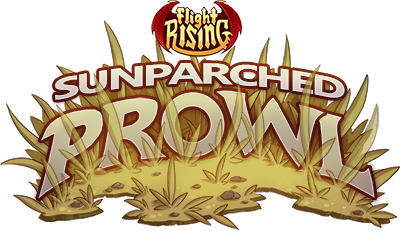 Flight Rising's
fourth food-themed microholiday,
Sunparched Prowl
, will be kicking off
Thursday, Thursday June 13th
(06:00) and running until
Monday, June 17th
(06:00).
During this limited seasonal event, players will have a chance to collect
bonus meat food items as loot from all Coliseum battles
. We'll also have a new pair of
familiars
for you to grab!
As with
Drakeharvest
,
Frigidfin Expedition
, and
Springswarm
, all
experience gains
in the Coliseum will be
increased by 50%
for the duration of the microholiday, so in addition to grabbing some extra meat items, you can level up some dragons!
Flight Rising Developer
Best Artist Not Allowed to Art | Business Ops | Engineering