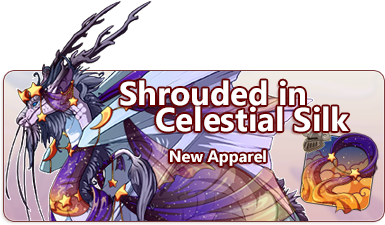 Dragons of the Starfall Isles produce more than just scientific and astrological works; there are seasoned tailors and costumers carving out a loyal clientele.
Starsilk
, as it's come to be called, is quickly becoming a popular material around the realm.
---
Celestial Silks to Show Off
Looking to show off your love of the cosmos? The following new
apparel
has been added to the
Treasure Marketplace
:
Horizon Starsilks
Moondust Starsilks
Paradise Starsilks
Ruby Starsilks
Teal Starsilks
The following set may be dropped as loot when defeating
Neutral monsters
in the
Coliseum
:
Nebula Starsilks
Additional Updates
Predict Morphology now includes a button to retrieve the scry image URL.
The Greenskeeper Gathering Skin & Accent Contest deadline is Tuesday, May 21 @ 23:59 Server Time so make sure you get your entry submitted to be considered!
Flight Rising Developer
Project Management
|
Engineering Team Cheerleader
|
UI Designer