Flight Rising
will soon be making some changes to
how it distributes limited event items
, so we'd like to give everyone a heads up on the feature we will be launching to facilitate that.
---
Hey everyone! Today's update is a
"mini"-Dev Update
on some changes we'll be rolling out soon with regards to limited event items. More specifically, how these items will be distributed to you when these changes go into effect.
---
Technical Talk
Since the site launched, we've employed a few different ways to deliver
limited event items
, such as Marva's craft boxes (from our April Fools event) and the Miniature Sornieth Globe familiar (from our
Bounty of the Elements
event).
As some may remember, when the site was young, these items were attached to
private messages
. As time went on and the player base grew, that became more and more taxing on the messaging system.
We moved to performing that functionality
on the backend
, but the player population has again grown so vast that it results in considerable strain to the system to deliver these items simultaneously to hundreds of thousands of inventories.
It also requires manual work by the engineering team to make these deliveries possible, often requiring they be present at odd hours and off-days. In order to continue refining the website, working on more features, and reducing/preventing developer burnout, this is a task we felt could use some streamlining.
Thanking Our Engaged Community
As we worked to find a solution, one of the other discussions we had as a team was
our philosophy for giving out exclusive items
in general. Up until now, these exclusive gifts were dropped into the inventory of every non-closed account (whether you were actively playing or not), meaning that items of potentially great value and sentiment are likely sitting in the Hoards of accounts that some players don't and maybe won't use anymore.
Our team has always taken a firm stance on inactive accounts remaining open so that players who may have left can return and pick up where they left off, and that isn't changing. With that said,
we also believe in showing our appreciation to our players for being active and current participants in the Flight Rising community
, and it's time to make some changes to reinforce that. This doesn't mean that inactive accounts are suddenly going to be made ineligible for exclusive gifts; we are simply modifying the delivery format.
Galore's Glorious Gifts
In the near future, we will be launching a feature called
Galore's Glorious Gifts
. Galore is a guardian dragon who loves to safeguard rare and legendary relics, but also believes strongly in passing these on to others.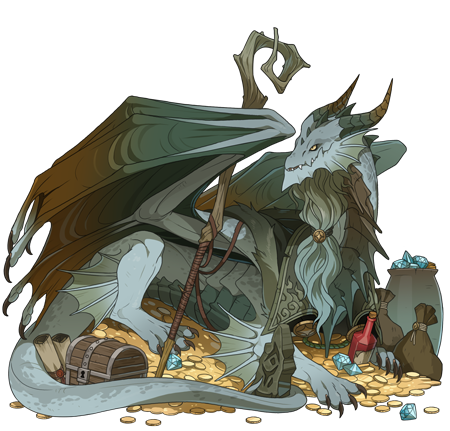 When we release exclusive event items,
we will no longer be placing them automatically in your Hoard; they will be available to collect at Galore's new plot in the Trading Post
. All open accounts will have the opportunity to visit Galore and collect the item(s) for a brief period of time. Even if your account has been inactive for a few years, you can still login and grab a reward!
We understand that some players may take planned or unplanned time away from
Flight Rising
. Vacations, school finals, jury duty, illness, and other life events could prevent someone from playing, and we don't want this new delivery system to be punishing. Our current plans are that
Galore will keep these items available for one whole week (7 days)
, to give everyone a fairly wide window to jump in and collect. We will pair these offerings with social media announcements to make sure we are doing our best to remind players who are following the game that there are gifts ready to grab.
(NOTE: We have no plans for Galore to retroactively offer previously-released limited event items, only those created for the specific current event and for all events going forward.)
---
As always, our team is committed to improving
Flight Rising
as time goes on, and
Galore's Glorious Gifts
occupies a great slot in being both a process improvement for us and an intuitive feature for you! Look forward to Galore joining the
Trading Post
very soon!
Flight Rising Developer
Project Management
|
Engineering Team Cheerleader
|
UI Designer