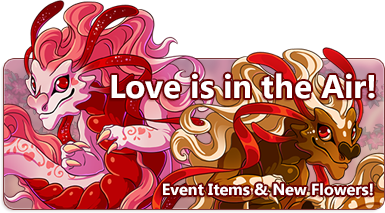 Sweet event items and new flower colors are some of what you'll find in
today's update
!
A Few More Flowers
We've expanded our flower lei sets to include
5 new colors
! The Larkspur, Dried, Silver, and Seapetal sets are now stocking in the treasure marketplace as
individual apparel items
and as
bundles
. The Tigerlily sets are rare drops found exclusively in the Scorched Forest venue of the
coliseum
.
Larkspur Blooms
Dried Blooms
Silver Blooms
Seapetal Blooms
Tigerlily Blooms
Love is in the Air
From now until February 21st at 12:00, the following seasonal items will be available, after which time they will cycle out until love is in the air once more~
Sweetheart Noggles
are dropping from all enemies in
the coliseum
for the duration of the event.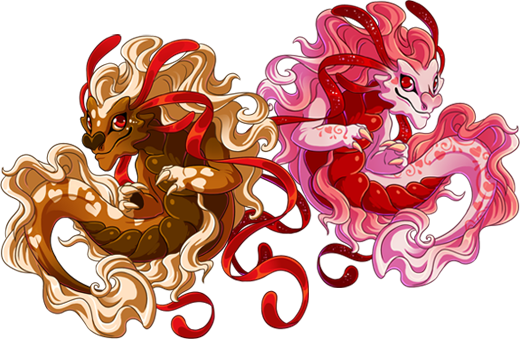 Sweetheart Swan
is available through
Swipp's Swap Stand
for 25 sparrow skulls and 20 Carpenter Wax. (don't worry, we've added this trade to swipp's pool multiple times over. So much so that you may get a bit tired of seeing swans this week!)
= 25 + 20
Enamored Swan
is available through
Baldwin's Bubbling Brew
for a limited time. Alchemists level 3 and above can bring this beautiful bird to life!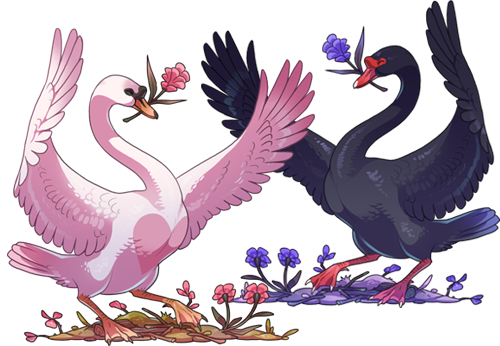 = + + +
Lovely Seraph Jewelry
Trickmurk Circus Skin & Accent Contest
The fifth annual Trickmurk Circus will begin February 24, 2019, and we're running a skin and accent contest in celebration!
Click here for more information!
Please note the deadline is this upcoming Thursday.

Coatl for Every Occasion
There are new emoji including coatl emoji available to use around the site.

Upcoming Micro-Holiday: Springswarm
Flight Rising's
third food-themed microholiday,
Springswarm
, will be kicking off
Thursday, March 7th
(06:00) and running until
Monday, March 11th
(06:00).
During this limited seasonal event, players will have a chance to collect
bonus insect food items as loot from all Coliseum battles
. We'll also have a new pair of
familiars
for you to grab!
As with
Drakeharvest
and
Frigidfin Expedition
, all
experience gains
in the Coliseum will be
increased by 50%
for the duration of the microholiday, so in addition to grabbing some extra insect items, you can level up some dragons!