The team is hard at work on the
Lair Revamp
and
Hibernal Den
. We also wanted to provide everyone an update on the status of our
Achievements
system.
---
Lair Revamp
We're pleased to say that excellent progress is being made towards the Lair revamp. We wanted to provide you more information about some of the bits and pieces we're focusing on.
(NOTE: Many of the screenshots used in this update are rough technical models used to assist the engineering team in building the feature. They do not reflect how the feature will look when launched.)
Edit Mode
One of the first things you'll notice is that the
Arrange
button is gone, replaced by a
gear
icon. Clicking or tapping this icon will take you into the lair's new
Edit Mode
.
Within Edit Mode, you'll be able to manage the following things:
Purchasing, naming, and arranging lair tabs.
Purchasing additional lair slots (i.e. expanding your lair to the cap)
Arranging your dragons
When the revamp goes live, all players will have their current active dragons migrated over to a
"main tab"
.
When in Edit Mode
, this main tab will visually display
all of your dragons at once
, broken into
tab pages
(identical to how the lair currently handles it, i.e. 20 dragons per page). You will easily be able to see where page breaks are as you scroll to view your dragons. Our aim is to
completely preserve the ordering you have now
so if you don't want to make major changes right away, you don't have to.
By default, new dragons that you acquire through gameplay (Auction House, Crossroads, hatched eggs, etc.) will be dropped into
last page
of this main tab
(internally, we've been calling the main tab the "dragon inbox")
. This tab will always be flagged with an
icon
so it will be easy to identify where your newest dragons are.
In addition to the main tab, all accounts will start with
one additional tab for free
! This means you'll be able to start organizing right away without any investment. If you don't want to use the tab, leave it empty and it won't display (to you or others) on your lair when you leave Edit Mode.
Players will be able to purchase additional lair tabs (up to a total of
15
in all) for
treasure
.
You also have the option to
rename
any of the tabs (including the main tab) at any time for no cost, and
arrange them
in whatever order you wish. Taking our example above, you could name a tab "Dragon Inbox", move it to the rightmost spot on your tab layout, and have its only purpose be to handle incoming dragons. We thought this might be handy during Dominance battles and player-run raffles.
And for our players on mobile devices, we haven't forgotten about you! We've heard your feedback, and we've dedicated time to ensure the act of arranging your dragons much easier and more mobile-compatible. We're designing Edit Mode from the ground up to recognize your device type so that moving dragons (whether its with a mouse cursor or your fingers) feels as natural as possible.
Gone will be the days where moving a dragon from page 1 to page 9 was a multi-step process; you can drag that dragon all the way to the bottom of Edit Mode into its new page with one action! You can even
collapse pages
you don't want to move the dragon into, making it far easier to avoid mistakes and resulting in far less scrolling overall.
It will even be possible for you to
select multiple dragons at once
and either send them to a
different tab
or into the
Hibernal Den
!
In addition to the tab system, we are allowing players a
few more controls
with which to customize their lair:
Dragons Per Page Increased: Currently, the default number of dragons per page is a minimum/maximum of 20. All accounts will migrate to the new system with their dragons preserved in this format. However, with the new system, we are increasing the maximum number of dragons per page to 60. This means that if you want to showcase more than 20 dragons on a particular page of the tab you're working in, you can! What you design within Edit Mode is what other players will see.
Dragons Per Row: We've heard your feedback about the inability to customize how many dragons display per row. As an example: organizing your dragons evenly by breeding pairs or mates is something that doesn't work very well with our locked 5-dragons-to-a-row format. With the lair revamp, you'll be able to set whether or not there are 4 or 5 dragons per row. This visual setting can be applied at the tab level.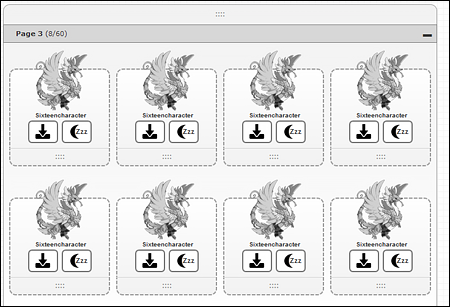 Tab Icons: If you'd like to customize your dragon lair just a little more, you can also designate an icon for each of your tabs. We'll have a fairly robust set to start with, and we hope to add more icons over time.

We've also moved
lair expansion
information and functions to the top of Edit Mode, rather than at the bottom of the last page of your lair. This will allow you to quickly see, at a glance,
how many dragons you currently have
, and
how many your lair can support.
You can easily expand your lair slots and tabs with the click of a button.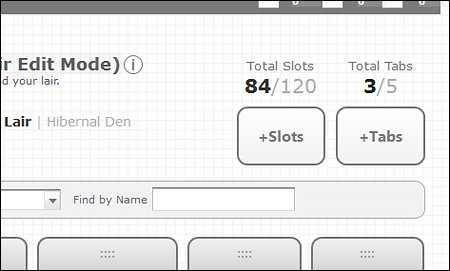 That's not all, though! It will also be possible to
highlight dragons that meet certain criteria
if you're looking for a specific dragon! Selecting a highlight filter will set all other dragons in the lair to a lower opacity, leaving only the ones who meet specific parameters in plain sight.
---
Hibernal Den
The Hibernal Den, as we've mentioned in the past, will act as a
secondary storage area
for dragons that you love and want to keep around, but don't necessarily want to interact with the rest of the game's features and functions. Kind of like a dragon "gallery."
Dragons inside the Hibernal Den
will not lose energy and not eat from your food stores
, however, there are some
caveats
:
Quote:
The following restrictions will apply with regards to moving a dragon to the Hibernal Den:
Dragons cannot be placed in the Hibernal Den

if they are tending a nest.
if they are listed on the Auction House.
if they are part of your active Coliseum team.
if they are attached to a pending Crossroads trade.
if they have a Hibernation Cooldown.
The following restrictions will apply to dragons that are inside the Hibernal Den:
Dragons in the Hibernal Den cannot

lose energy or be fed.
breed.
be traded via Crossroads or sold via the Auction House.
be put on a Coliseum team.
Dragons in the Hibernal Den can

equip familiars but cannot bond with them.
equip apparel & skins.
have their biography edited.
The following restrictions will apply with regards to moving a dragon out of the Hibernal Den:
When a dragon is removed from the Hibernal Den, it will receive a "hibernation cooldown" of 30 days. It cannot be placed in the Hibernal Den until this duration expires.
There will need to be space for them in the lair.
As with its sister (the lair), the Hibernal Den will also have an
Edit Mode
, complete with
tabs
and
pages
, and you'll be able to perform most of the same functions within. There are going to be a few differences:
To start off, all players will receive
one (1)
free Hibernal Den
tab
(their "main" tab), and
five (5)
free Hibernal Den
slots
(each slot accommodating one dragon).
The Hibernal Den is intended to be an optional/cosmetic "frozen storage" system and the team is still exploring the ways in which players can expand it (
tabs
and
slots
).
We're really looking forward to launching this revamp; we know a lot of you have been very excited about it. Thank you to everyone who has provided lair feedback over the life of the game. We plan to have more information about the feature as we get closer to launching!
---
Achievements
As we continue our march through rewriting the underlying code of Flight Rising, we will eventually find ourselves ready to tackle the
achievements system
. Because this system touches so many portions of the game, we have to hold off on developing it until we're closer to completing the rewrite in order to avoid duplicating work.
After reflection and discussion,
our consensus is that the current incarnation of the achievements system is not meeting the quality standards that we have as a team and for what we want for the player community
. We don't have very many achievements to begin with and the ones we do have feel as though they function inconsistently. We routinely receive bug reports and support tickets about achievements failing to award (in many cases it just takes a long time for the notification to pop up, but that can be confusing), and more of them stand to break the further into the code conversion process we get.
That being said,
we've made the decision that we will be decommissioning the legacy achievements system
in the near future, until the new one is ready for launch.
We understand this is a big change and want to be as transparent as possible with you as we move forward. We've included a
FAQ
below to help with that:
Quote:
When is the old system shutting down?

We don't have a planned date. We are still determining as a team the best way to approach it, but we will give you a large window of time to wrap up any achievements you're currently working on. Expect information in our Site Status box on the front page. We will also provide you with plenty of notice as we get closer to shutting the system off.


What's going to happen to the achievements I've already earned?

We're going to be retaining achievement data on the backend. When the new system launches, you'll be able to view the ones you earned in the old system in something like a "Legacy" section. These legacy achievements won't be worth achievement points or count toward the grand total in the new system, but they will be there for you to share and remember. If there is an equivalent to an old achievement in the new system, one of our goals is to find a way to retroactively award it to you.


Why shut down the system at all?

Ultimately it came down to a quality call. As we mentioned above, the achievements system was not meeting our quality standards and we decided that it wasn't something we wanted there to confuse new players or frustrate veteran players. There are also a number of infrastructure needs we must address first in order to support a new system, without the old one in there causing conflicts.
---
And that's all for today! As with all of our feature development, we don't have any concrete timeframes to provide, but we will update everyone as much as we can as we get closer to release.
See you next time!
Flight Rising Developer
Project Management
|
Engineering Team Cheerleader
|
UI Designer