Decorative frill patterns are beginning to materialize on dragons across the realm. A new gene,
Ringlets
, is now available in the
Treasure Marketplace
!
---
New Tertiary Gene: Ringlets
Today we've launched our newest tertiary gene:
Ringlets
. This versatile gene adds bursts of colorful rings to a dragon's neck, wings, and back.
Ringlets is available now in the
Treasure Marketplace
.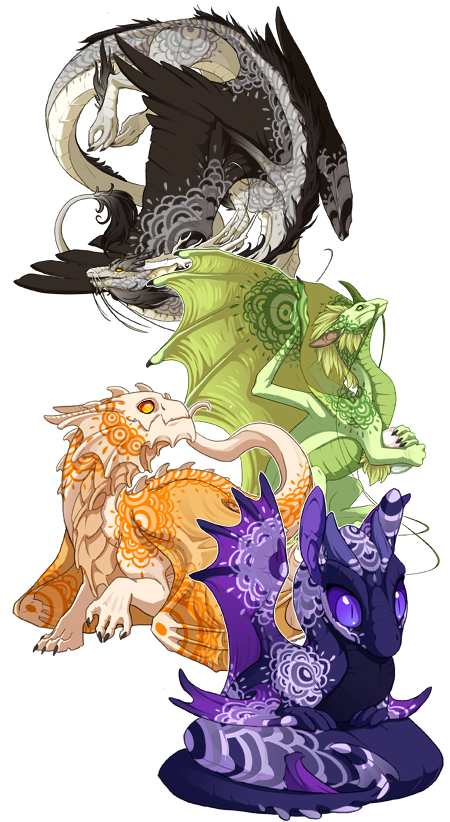 Return to the High Seas
Y'aaaarrrrr! Our swarthy collection of
corsair apparel
has cycled back into the
gem marketplace
for a limited time! Grab yourself a set of this piratical garb from
now until Friday, September 21st at 22:00 server time
.

Additional Updates
Over the last few weeks we've had the opportunity to make some headway on some
bugs
as well as implement a few
quality of life
changes:
Encyclopedia page titles are now shown on browser tabs.
The name of a thread will now display in alerts notifying players that they were pinged within them.
It is now possible to open the Preview Familiar window from many more areas of the site.
The recipes list for Baldwin's Bubbling Brew now has improved search and filter options.
It is now possible to initiate a Crossroads trade directly from a player's clan profile.
It is now possible to embed outfit BBCode within clan profiles and dragon profiles.
The Dressing Room has received significant changes to allow for better apparel searching, filtering, and the ability to add more than one item at a time. It is also possible to hide pieces of apparel from view within the outfit editor.
Flight Rising Developer
Project Management
|
Engineering Team Cheerleader
|
UI Designer