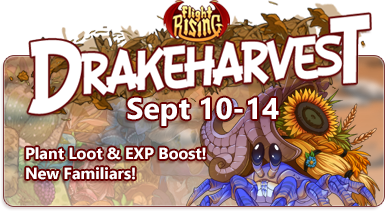 In the wake of the elemental surges throughout the realm, dragons everywhere are reaping the
benefits
of an unusually bountiful harvest season!
---
Drakeharvest
,
Flight Rising's
first official "micro-holiday", is in full swing! From
Monday, September 10th
(06:00 Server Time) to
Friday, September 14th
(06:00 Server Time), all players will experience a couple of battle-related
boosts
!
Bountiful Battles
For the duration of Drakeharvest, all
plant food items that drop as enemy loot will drop more frequently
. Dragon clans everywhere are taking this time to
stock up
on fruits, veggies, fungi, seeds, flowers, and grains to prepare for the cold winter months.
Battle EXP Boost
During the event, all battles will yield
50% additional EXP
, so now is a perfect time for dragons to train. Grab your newest team and head out into battle!
Plant-Pinching Pests
The prosperous harvest season doesn't come without its drawbacks. A common thieving species of crab has taken to the fields and foodstores in droves to make off with as much as they can carry! For the duration of Drakeharvest, these plucky familiars will
drop fairly commonly in the Coliseum and rarely during Foraging
. Once the harvest has concluded, they'll go back into hiding, but may run into one or two while
Foraging
.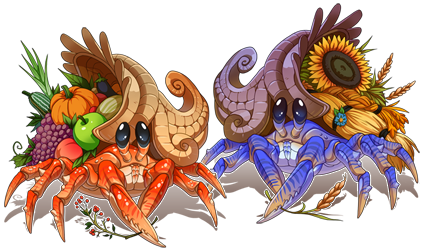 Additional Updates:
A fix has been implemented that allows the usage of "<3" within comments on clan profiles.
The sixth annual Starfall Celebration will begin on September 23, 2018 at 06:00 server time, and we're running a skin and accent contest in celebration! (Contest Entry Deadline: Tuesday, September 18th - 23:59)
Flight Rising Developer
Project Management
|
Engineering Team Cheerleader
|
UI Designer