In this new
Fairgrounds game
, swap tiles from light to shadow (or vice versa) to claim territory. What element will reign supreme?
---
New Fairground Game: Glimmer & Gloom
The spritely minions of the Lightweaver and Shadowbinder have for thousands of years fought over territory, and now you can join the battle! Today, we've launched our newest Fairgrounds game,
Glimmer & Gloom
.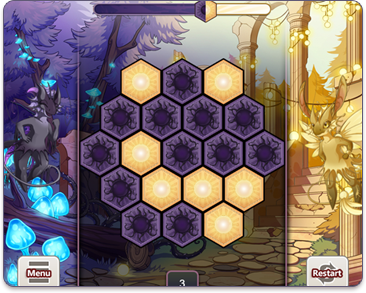 Playing Glimmer & Gloom is simple! Clicking a tile will
swap it and surrounding tiles to the opposite element
. To win you'll need to continue swapping tiles until they are all light or all shadow. The meter at the top will let you know whether or not each side is getting close to conquering the board.

And here's a preview of the game in action!
---

Thundercrack Carnivale Updates
Just a few reminders:
As we noted in our last
team update
, we will be shifting
Flight Rising
festivals to
begin and end on Sundays at 06:00 server time
. Due to the timezones in which our team works, this is a healthier option for us to implement festivals. This will begin starting later this month with
Thundercrack Carnivale 2018
, which launches on
Sunday, July 22
.
We're also running a skin and accent contest in celebration!
Click here for more information!