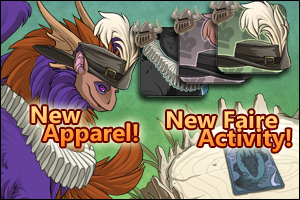 Happy July, clans! Today we've got a few new additions to the site that we hope you'll enjoy:
New Apparel
If you've ever dreamed of being a suave cavalier, and sporting a lustrous feather in your cap, look no further! The following hats now have a chance to stock in the Treasure Marketplace. They're rare, so be on the lookout! We've also added a dignified neck ruff to match. Show them off!


---
New Faire Activity
We've added a new activity to the Fairgrounds for when you've only got a few minutes. Try your luck at the simple, luck-based
Higher or Lower
, where correct guesses can net you a small bit o' coin. This activity is not tied to your daily Lucky Streak, and can be played for
25 turns every hour.
Click the banner below to play!
---
Thundercrack Carnivale Skin Contest
In celebration of the upcoming Thundercrack Carnivale festival, we're running a
Lightning-themed skin-design contest
with some pretty cool prizes for skin artists.
---
Additional Updates
Optimization: There have been significant improvements to the forums, resulting in a performance gain across the entire site. (Hooray!)
Coliseum: Damage numbers should now properly fade away even when the ability or items menus are open.
Swipp's Swap Stand and Crim's Collection Cart should now be refreshing their activity properly.
Flight Rising Developer
Best Artist Not Allowed to Art | Business Ops | Engineering