Table of Contents
New and Returning Moderators
Tapir Poll
Fan Art Fridays
2016-2017 Festival Recap

Wavecrest Saturnalia
Greenskeeper Gathering
Click here to read more!
---
New and Returning Moderators
Please give a warm welcome to your two new volunteer moderators!
And we are very happy to announce the return of @Loddie and @Alphaeon!
How are volunteer moderators selected?
Volunteer moderators are selected based on the application, the account's history on the
Flight Rising
website, and when we feel we need to add to the volunteer group. If you are interested in being a volunteer moderator,
please see our Encyclopedia page about the requirements and our expectations.
Flight Forums
Volunteer moderators are
not required
to be in a specific Flight. It's important to the
Flight Rising
team that our volunteers are still able to enjoy the game as players.
With that said, we'd like to also announce:
Every Flight now has a moderator!
Look for the stickied introduction thread in your Flight's Discussion Forum!
You can also find a full list of our volunteers on our
Credits page
and the
Introductions Forum
!
---
Tapir Poll
The results of the
Tapir poll
are in. The majority of players preferred the second option: the look of Tapir with thinner stripes. In addition, we received much appreciated feedback on the community update and in the forums expressing a desire to see longer stripes, more closely resembling a baby Tapir. This has resulted in the final look of the genes.
Tapir and Striation will be releasing in October
to the treasure marketplace as a primary/secondary pair. Hungry for more genes and can't wait until then? Our artists have got you covered; we'll be releasing a Baldwin Tertiary before the end of August, as well as a Gem Marketplace Secondary in September!
Your dragons are gonna be lookin' so good~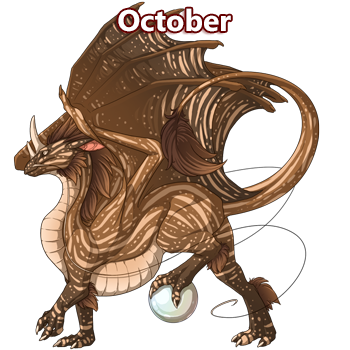 ---
Fan Art Fridays
For our social media communities, we've introduced Fan Art Friday on
Twitter!
And based on community participation and interest, we will be expanding to other platforms in the near future!
How to Participate
Include the #FRFanArt tag when you post your art.
Using this hashtag communicates to us that it is okay to share/retweet/or possibly spotlight your work!
While we may not be able to share all posted fan art,
using #FRFanArt is also a way to show off your fan art to new people and players when they browse the tag.
Why Social Media?
There are many of our players who don't visit the forums, just waiting to be engaged. We're starting small with Twitter and slowly branching out as we go. In fact, starting mid to late-September, we're expanding Fan Art Fridays to
Tumblr
!
Fan Art Friday Spotlight!
Click on the preview to see the full image!
---
Flight Festival Recap 2016 - 2017
For those new to
Flight Rising
, back when we first opened the community created the tradition of celebrating a Flight's holiday by putting on a site-wide organized event. These events are characterized by a "hub" posted in the
Flight Rising Discussion forum
. Here players share and celebrate their Flight with their fellow players and provide a digest of links and mini-events happening around the site.
Our
May 2017 Community Update
covered the 2016-2017
Crystalline Gala
,
Trickmurk Circus
, and
Mistral Jamboree
. Today we'll cover the 2016-2017
Wavecrest Saturnalia
and
Greenskeeper Gathering
! Given the depth and breadth of the events, it's not always possible to recap every mini-event held. Please take the time to check out each hub to see everything Water and Nature had to offer their fellow players this year!
[WCS][WS] Labyrinthine Levitos Tours



Whenever anybody thinks of the name "Levitos", the first thing that comes to mind is the gondolas. Levitans steer these small, curvy boats to and from the city most times and in the canals during the Saturnalia week, often offering rides to visitors. This year, there seems to be a tour company set up, with five different guides providing five tours around the city. Why don't you join one? I'm sure nothing could go wrong...



[WCS]The Levitos Pageant



Take a walk around Levitos and look at the clothing of the dragons passing by. Unlike many places in the Sea, where the residents dress in a practical way, the Levitans wear flowing silks and glittering jewelry. It's for this reason that the City of Whispers is known for its fashion, and the existence of the Fashion Show proves it. Every year, dragons strut their stuff in a variety of styles for one coveted position: ringbearer at the Marriage of the Sea.



[WCS] Aquatic Artisans



There's quite a commotion in a little building on the outskirts of Levitos. The Museo de Drago, a small museum, is holding a big contest: if a visitor can draw or write something truly representing Levitos or the Water Flight, their work will hang in the museum forever. A chance at immortality, of sorts? No wonder the Museo is so packed! Why don't you try?



---
That's it for this update but we'll be back soon with the start of the 2017-2018 Festival recaps, FR Fan Art, and more!