Contrasting scaled claws are beginning to appear on dragons who engage in the alchemical arts.
Click here to read more about today's update
Scales: A new tertiary gene!
Glossy, interlocking scales are a new craftable at
Baldwin's Bubbling Brew
, available to dragons with a skill of 7 or higher in the craft.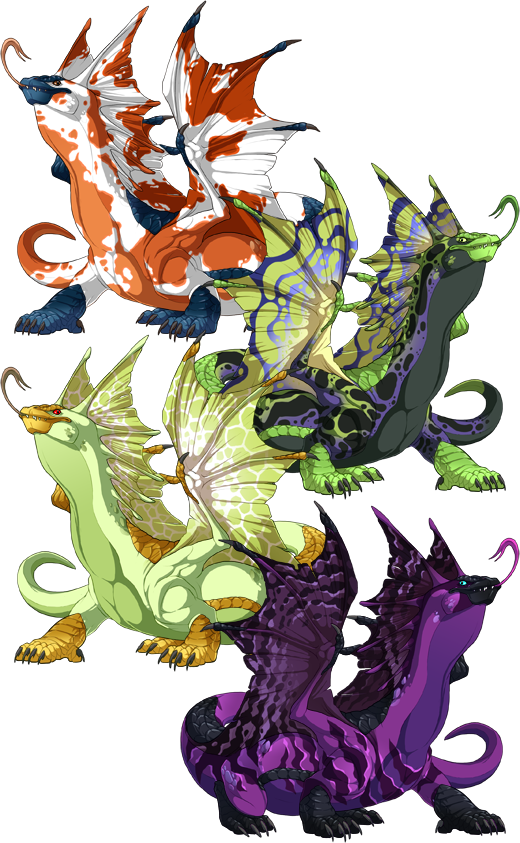 Dragon Breed Vistas
Fae and Guardian dragon vistas are now available in the
treasure marketplace
.
Skin Contests

Coliseum Skin & Accent Contest
Test your coloring skills against the best in the realm! We are running a
coliseum skin and accent contest
from now until December 15th.
Gathering Additions
Dragon clans with a skill of 31 or greater in
insect catching
now have a chance to locate and befriend these new familiars!
Updates Changes & Misc
Flight Rising
releases a handful news posts a month that can contain dozens of new items and pieces of information within each post. When we were deciding how to present our news, we thought that it would be better to have a single place to digest a large amount of news rather than posting news posts with a single item in the update. The downside of this system is that several days can go by without an update.
We want to see if we can have the best of both. We're going to try release very small content updates frequently, announce them as they're implemented in our status box and social media, and then consolidate them into an official news posts after enough have built up to form an update of the size that our news posts typically are. In this way, players who want to check back daily have a good chance of finding something new, and players who don't want to do daily hunting and enjoy our larger content updates can have a recap of what's gone on for the past 7-10 days.
So don't be too surprised if you see small amounts of new content going in regularly via site status!
We will be performing an extended maintenance period Saturday, December 17 @ 22:00 STfor several hours. This maintenance will be to directly support our two-week Night of the Nocturne event, which begins on Sunday, December 18.
Tufted Leaf Beetle, Goliath Mountain Beetle, Duskthicket Bonepicker, Highreach Bonepicker, Orange Blotch Pansy, and Blue Vein Pansy are now gathered at level 20+ (down from level 25)
Skittering Megashrimp and Gaseous Megashrimp are now gathered at level 20+ (up from level 15)
The Night Sky Silk Apparel has cycled out of the gem marketplace.
Dragon Share Theme Week: The Next Generation!