A rainbow of new cold-weather apparel is now available.
Click here to read more about today's update
Earlier this evening we ran a live update. The update is now complete. Enjoy the new items!
Arctic Gear
Outfits to keep a dragon warm and toasty, even when traversing the Southern Icefield, is now available. These new items can be purchased in the
treasure marketplace
, occasionally awarded via
Pinkerton's Plundered Pile
, and found in randomized iron and gilded chests.
Turkey's Lurkin'
Woodland Turkeys are strutting around
Boreal Wood
until November 30th.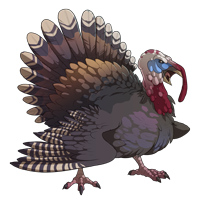 Dark and Sparkly Garb
The night sky silk set has cycled into the
gem marketplace
. This set will be available until December 8, 2016, 22:00, at which time they will cycle out again.
Skin Contests

Coliseum Skin & Accent Contest
Test your coloring skills against the best in the realm! We are running a
coliseum skin and accent contest
from now until December 15th.
Rockbreaker's Ceremony 2016 Skin & Accent Contest
The fourth annual Rockbreaker's Ceremony will begin November 27, 2016. To celebrate we are running a skin and accent contest honoring the earth flight.
Click here for more information!