Vibrant trails of color mark dragons of the skink and spinner lines.
Click here to read more about today's update
Skink and Spinner: New primary and secondary genes!
A colorful new pattern has taken the alchemy world by storm. Skink and Spinner are new primary and secondary genes available only through
Baldwin's Bubbling Brew
to alchemists level 8 and above! Brew up a copy today!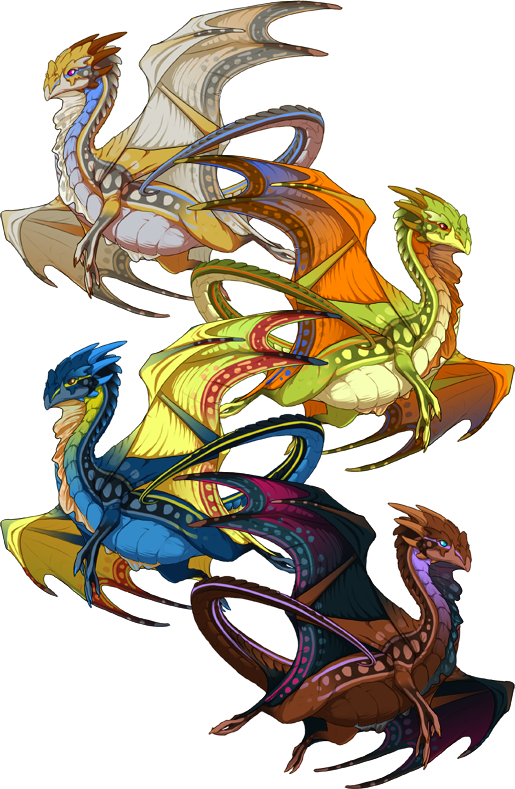 Gathering Additions
Dragon clans with a skill of 30 or greater in
insect catching and foraging
now have a chance to harvest these new supplies!
Art Updates
The following items have been given updated art. If you are not seeing the new artwork, please clear your cache.
Flameforger's Festival 2016 Skin & Accent Contest
The fourth annual Flameforger's Festival will begin August 21, 2016. To celebrate we are running a skin and accent contest honoring the fire flight.
Click here for more information!

Additional Updates
Players that want to calculate their accent coverage percentage can use our new Photoshop and Gimp skin coverage tutorials.
Forum subscriptions are back! Players are now able to track a thread by selecting the star icon at the top of a thread.
Forum Search is back, now sporting improved search options! You can access Forum Search using the search bars in the top right corner of all forum pages, or by visiting the Forum Search page directly.
A bug where additional vista previews were created in the marketplace has been resolved.
Scrying Workshop, skin previews, vista previews, and apparel previews are now usable while logged out or visiting the site without an account.
We have created an Employment Opportunities page that lists all currently available Flight Rising job openings! It can be found in the website's footer.