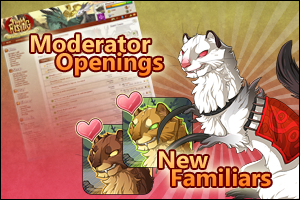 Calling All Mods!
The development team is looking for a few experienced, friendly, knowledgeable
Flight Rising
players to take up a forum vista and help out the FR community. These are volunteer positions, and duties would include answering questions, moving threads to appropriate sub-forums, locking duplicate threads, and reporting issues to the administration and moderator team. Moderators must possess an extremely cool-headed objective demeanor, protect the interests and concerns of all players, and overall enjoy being a community figure and role model.
If you think that this type of role would suit you, please send an e-mail to
admin@flightrising.com
with the subject "Moderator Application:
Username
" and contain the following information in your message body:
Required Info:
Flight Rising Username
Flight Rising Email Address
# Of Years with familiarity of pet sites, forum moderation, or both
Flight Rising forum you think you'd be best suited to
You must be over 18.
Recommended Inclusions:
Links to applicable FR threads in which you participated in a moderation/mentor/helpful role
Links to applicable threads from other pet sites in which you participated in a moderation/mentor/helpful role
Any other experience/skills that may be relevant
---
New Familiars
New critters (sponsored by Kickstarter Backer Larthan) have been added to the
Treasure Marketplace
. You'll be able to adopt the...uh... "lovable"
Salve Kamaitachi, Scythe Kamaitachi
and
Sickle Kamaitachi
. We've also heard rumblings that they've been seen darting in and out of reed clusters in an undiscovered location...
Just don't get too close. They literally have
BLADES INSTEAD OF PAWS.
---
Fairgrounds Bonus Treasure
We have been crunching some numbers on Fairgrounds treasure output for the past few days, and have made the following changes to bring
bonus treasure
amounts in-line with one another:
Runestones of the Arcanist has had its bonus treasure output increased by 40%
Runestones of the Arcanist's levels beyond 13 have had their time bonuses increased to account for the lower starting time.
Jigsaw (Medium) has had its bonus treasure output increased by 40%
Jigsaw (Hard) has had its bonus treasure output increased by 20%
---
Additional Adjustments
A bug that would rarely add an extra digit to players' Runestones of the Arcanist scores has been fixed.
A bug that would duplicate the High Scores display for Runestones of the Arcanist has been fixed.
The drifting mechanism for Jigsaw pieces has been adjusted to be more manageable.
Based on player feedback (thank you!), we are currently dedicating development time to significantly increasing the play space for Jigsaw. While this may change, our current plan is to move the left-side navigation menu to display along the top of the page, and stretch the Jigsaw board to encompass the entire width of the site's live area. We do not have an ETA just yet on this renovation, but it is absolutely in the works.
Immaculate tablet drop rates in the coliseum have been buffed for the remainder of the holiday.
The 'Like' button on forum posts is once again functional.
Thank you all for being an
amazing
community -- we hope you have a great day!
Flight Rising Developer
Project Management
|
Engineering Team Cheerleader
|
UI Designer