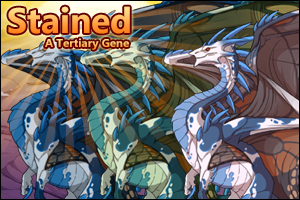 The varied hues of the stained gene are making their way onto the scales of Sornieth's dragons. Sharkhunters patrol the Waterway, and dragons have discovered new wildlife to gather.
Click here to read more about today's update
Stained: A new tertiary gene!
This newly discovered marking applies a tint to your dragon utilizing its tertiary color. The various tints and shades can subtly alter the look of a dragon, creating new hues to enjoy. Stained can help to bring together wildly different primaries and secondaries, and make two dragons with the same primary and secondary colors subtly different from one another. This gene is now stocking in the
gem marketplace
!
In November's Words on the Wind we mentioned that we'd be spacing the Butterfly and Petals releases with treasure genes. We still intend to do this, but felt that there was a need for another new tertiary before we rolled out more primary/secondary sets. In light of this, we pushed Stained up on the release schedule and pushed Petals back. There will be a couple new genes between now and Petals. We hope you enjoy all of them!
Gathering Additions
Dragon clans with a skill of 28 or greater in
hunting, foraging, and fishing
now have a chance to harvest these new items!
Trickmurk Circus 2016 Skin & Accent Contest
The third annual Trickmurk Circus will begin February 21, 2016. To celebrate we are running a skin and accent contest honoring the shadow flight.
Click here for more information!

Coliseum: River Hunters:
Waterway
has become a location of interest to local Maren schools. Will your clan fight or befriend these patrols? New challenges bring new rewards; go out and find them!
Sandswept Delta and Waterway Skins
Clans who battle for the
Sandswept Delta and Waterway
may emerge with new decorative patterns. Additional Delta and Waterway foes now have a rare chance of dropping themed skins when defeated! Thanks to @
boobah
@
Jedesto
@
kengee
@
McLarenSpider
@
mozzarella
@
razrroth
and @
vander
!
Additional Updates
An opacity bleed issue on the manes of imperials and bellies of spirals with the stained gene has been corrected.
The line art on carmine and Opheodrys Serthis has been colored to better match with site-style. Carmine serthis is now flipped in the opposite direction of Opheodrys Serthis.