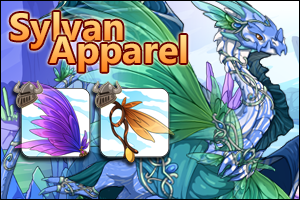 Gossamer wings, jewelry, and silks adorn the most refined dragons.
You can click here to read more about this update.
This afternoon we ran a live update where items were added to the update as they were implemented into the game. This update is now complete and is no longer live, but we enjoyed chatting with everyone as we added things to the game in real time. Thank you for a fun time!
Sylvan Garb
Silkworms keepers from The Viridian Labyrinth have collaborated with the weavers of Starfall Isles and the tailors of the Sunbeam Ruins to release glamourous new fashions! Transluscent Sylvan Garments and Jewelry is now stocking in the
treasure marketplace
.
Silver Sylvan Garb is now available in the
gem marketplace.
The swapper clan
has acquired a deeply dyed set of the sylvan garb. They will make a trade when they have stock and
if the price is right...