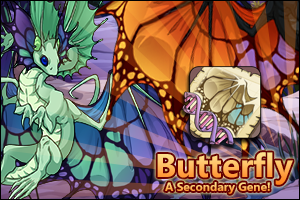 Fragile, painted wings take to the skies!
Click here to read more about today's update
Butterfly: A New Secondary Gene!
This newly discovered marking applies beautiful butterfly markings across the wings of your dragon. This gene is now stocking in the
gem marketplace
!
Gathering Additions
Dragon clans with a skill of 27 or greater in
hunting, fishing, and insect catching
now have a chance to harvest these new items!
Baldwins Brew Level 12
The dragons of Sornieth have been advancing through the available levels of Baldwin's Bubbling Brew at a swift pace! With over 4,100 clans capped at level 11 alchemy, it is time to allow even greater advancement! Dragon Clans may now progress to level 12!
New Level 11 Recipes:
Additional Updates:
The Retired Skins encyclopedia entry and all retired holiday skins entries have been updated.
The Retired Familiars and Cycled Items encyclopedia entries have been updated.
We are expanding the new image generation system to the Coliseum for testing.