Welcome to the April 2015 edition of
Words on the Wind
!
Site Engineering/Features
Quality of Life
Art, Lore, and Holidays
Community
Site Engineering/Features:
How is the site rewrite coming? What area of the site is next on the list?
We are continuing to make steady progress on the rewrite, one section of the website at a time.
Crim's Collection Cart
is currently being tested and will likely the next conversion to go live.
A question about something very important to the community - Is there progress on Secure Item Trading?
We have made the decision to roll our secure item trading into an expansion of the
Crossroads
(currently used only for dragon trading) to provide maximum flexibility. Rather than convert the current
Crossroad
s system over in the rewrite process, then build a separate item trading feature, we thought it would be a much better investment of development time to combine the system and rewrite it in one go.
We plan to expand
Crossroads
to allow users to trade up to three dragons at a time, multiple stacks of items, treasure, gems, and any transaction in between. We believe this will allow
Crossroads
to be an extremely secure, flexible, and dependable tool for the
Flight Rising
economy. We will have more information about this feature, including some preview images, closer to when we are ready to release it.
The community really would like a new game - is there anything in the pipeline?
We have resumed work and made good progress on Artifracture, a new game for our fairgrounds. We are currently testing this game and exterminating its resident bug population.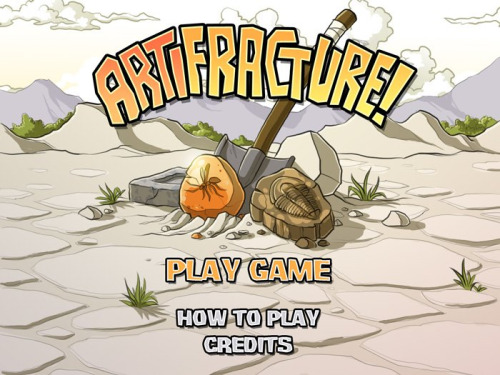 Players are really excited about the new Coliseum you previewed in January, are there any updates?
The
Coliseum
is undergoing a ground-up rewrite much like the rest of the website. We are happy to report that significant progress has been made on this front and that the new build of
Coliseum
has working animation toggles. However, the feature will not be debuting until the entire rebuild is complete.
Have you changed the dodge rates?
No changes have been made to dodge rates since launch. We understand that the current system can be frustrating. To give a bit of insight: at this time, there is currently no stat that directly counters agility, which makes dodge chances go up and up and up. While this is cool for your dragons, it's not so great for your enemies. It becomes a game of "can't hit me!" on both sides, and we don't think that's very fun, either!! In the new build of the Coliseum we plan to revisit how dodging mechanics work. Ideally, we would like for agility to provide both the swiftness needed to dodge an attack and the dexterity needed to land hits on enemies attempting to avoid you. Please note that the particulars of these mechanics may be tweaked during the rebuild, but in the end, dodging should be a significantly less frustrating experience and instead be an additional facet to the game.
Quality of Life:
A while back, you tried deploying a collapsible offspring list which unfortunately didn't pan out at the time. This is a quality of life feature that all players would love to have. Do you have any more information on this feature for the community at this time?
Unfortunately, we don't have any updates on collapsible offspring lists right now. The way that our database stores and pulls the offspring data made our previous offspring list code become far too heavy of a feature to include on dragon pages (which are some of the most frequently used pages on Flight Rising), and it made our website slow to a crawl once deployed. This was very good analytical data to have, though, and we may be able to revisit the offspring list in a different way later when higher priority tasks have been completed.
For the achievement collectors out there, what are your plans for the Achievement system? The lack of new achievements and the known issue where achievements take as long to reward as the Earthshaker does to wake up is very frustrating.
We absolutely plan to add new achievements throughout the life of Flight Rising. As with many of our other systems, it will need to be converted in the site rewrite in order to support a growing player base. We hope to successfully convert the achievements system over and tackle the achievement rewarding delay issue at the same time.
Art, Lore, and Holidays
Two words: Skydancer Lore.
Two words: Coming Soon.
Will there be a new gem tertiary? Circuit is looking awfully lonely…
Yes! Our next gene to be released will be Glimmer, a gem tertiary that applies sparkling horns and belly to your dragon. In certain dragons, it may affect other items, such as a Pearlcatcher's pearl or a Skydancer's jewel. Glimmer will be our next gene release, followed shortly by the Piebald (P) and Paint (S) genes voted on in February!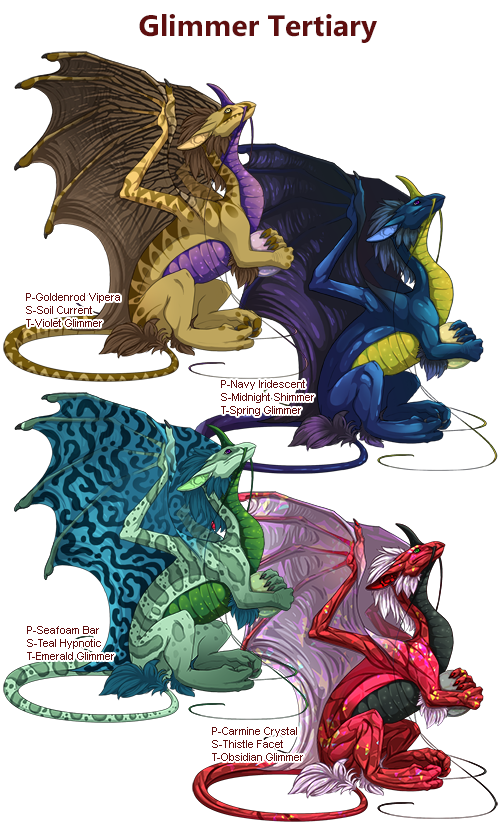 Will we be able to vote on the holiday familiars this year? What about holiday familiar retirement?
This year our art team will be choosing our familiar theme, but we are leaving the decision of the themed apparel for the year to the community! Our past themed apparel items were armbands and sashes. This year we are going to try a ranking system over a straight vote, so you can give more weight to your 1st, 2nd and 3rd choices than your last.

We are also opening up the retirement vote so that our community may choose which of the three holiday items (themed apparel/holiday apparel/holiday familiar) will not retire in the 2015-2016 holiday season. IE: at some point in the future it will be made available again for future players. Please note that this vote is for the 2015-2016 items only, and will not unretire previously retired items.
Community:
We are happy to announce the first group of
Flight Rising
MVPs! Their conduct and contributions to the
Flight Rising
community has been nothing short of exemplary. We're excited to bring them on as the inaugural
Flight Rising
MVPs.
Please give a warm welcome to
@Praeses
,
@Peixes
, and
@TikindiDragon
!
This is only the beginning - we will continue to watch for outstanding individuals and potential MVPs, introducing them to the community over time.
For a player to be considered an MVP, the following are considered:
Account must be in good standing
If the account has been previously actioned but has since displayed exemplary behavior with no further violations, this will be taken into consideration
A forum history showing that even when under pressure or in heated debate, the player is able to discuss or disagree within our Rules and Guidelines and Forum Code of Conduct.
A history showing consistent positive contributions/benefits to the Flight Rising community.
Must be 18 years of age or older.
While we are not taking votes or formal nominations for MVP status, if you know a player who you feel has been an outstanding member or contributor, please feel free to send us a message through
Contact Us
with the title '
Flight Rising MVP
'. We will not be able to provide you with a personal response or update but we will file all messages for future review so that we can find even more deserving candidates from our community.