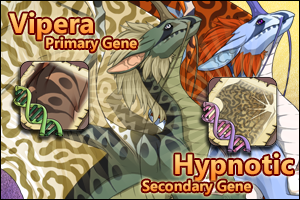 Mesmerizing new patterns have begun to appear across the scales and wings of the eleven flights!
Click here to read more.
Vipera Primary, Hypnotic Secondary Genes
Vipera and Hypnotic are a new pair of genes that will stock in the
treasure marketplace.
These genes display a bold pattern across your dragon's hide, designed to confuse and mesmerize its foes. These genes will be stocking in increased quantities during the week of their release.
Wavecrest Saturnalia 2015 Skin & Accent Contest
The second annual Wavecrest Saturnalia will begin April 26, 2015. To celebrate we are running a skin and accent contest honoring the water flight.
Click here for more information!

Additional Updates