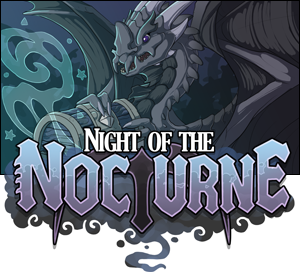 From the veiled brambles and branches of the Tangled Wood, an elusive new creature has begun to spread across the realm. These once-hidden dragons are leaving the comfort of their dreary habitats and traversing Sornieth under the cover of darkness. On this, the shortest day of the year,
Nocturne
dragons rule the skies.

Night of the Nocturne
introduces
Flight Rising
's second
Limited
breed, in that they can only be collected via this in-game event once a year! Nocturnes have a 30-day breeding cooldown and eat
Meat
and
Insects
.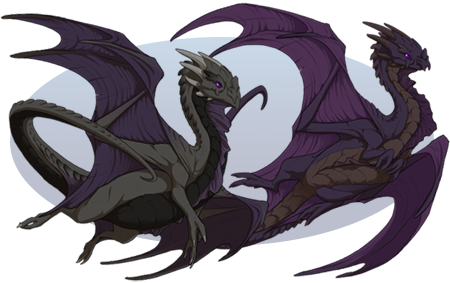 From now until
January 3rd, 23:59
server time
January 4th, 23:59 server time
, it will be possible to attain Nocturne Dragons in the following ways:
Finding rare Unhatched Nocturne Eggs.
Finding very rare Breed Change: Nocturne scroll items.
The items above will be found in
Strange Chests
--baffling containers left by the breed during their only two weeks of activity. Plotting Nocturnes aren't keen to just shower the realm in gifts, however. Several of these chests have a vicious mind of their own. So tread carefully!
In order to find these chests, use the
Digging
skill in any elemental region or battle Mimic monsters in the
Coliseum
. They can be encountered in Woodland Path, Scorched Forest, Waterway, Arena, Kelp Beds, and Golem Workshop, with higher level mimics having a higher chest drop rate. It will also be rarely possible to find
Unhatched Nocturne Eggs
while
Scavenging
in any elemental region. After two weeks have passed, Nocturnes, their eggs, and their
Strange Chests
will become scarce until next year, when they again return.
To help kick off the event, we have granted all players an
additional 10 Gathering Turns
for today only! If these bonus gathering turns are unused, they'll disappear after the next rollover.
IMPORTANT NOTE: Strange Chests will become fragile and disintegrate starting January 4th January 5th, so make sure to open all of them before the event concludes!
Engineered by the Shadowbinder herself to be covert, hidden, and adaptable, Nocturne dragons have the incredible ability mimic the sounds, motions, and behaviors of other dragons and creatures. This interesting adaptation can have its drawbacks, though. Find out more about the Shadowbinder's sneaky sentinels in a new lore article below: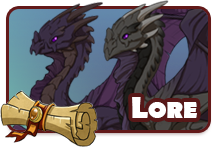 Though there is a chance for breed change scrolls and eggs within
Strange Chests
, you'll also find a very tricky array of objects and food items. Below are some new items that you'll be able to procure:
That's not all, though! Last June,
we polled the community
for their interest on whether they'd like to see the 2014 elemental holiday familiars return for a brief period in December. You voted yes, and that time has come! Within the murky contents of the Nocturne's
Strange Chests
, you may come across some of last year's elemental holiday bears for your collection. These familiars will disappear until next year.
Just be wary, with all the copycatting and mimickry afoot, will you find a normal ursine guardian, or a clever doppelgänger...?
Nocturne dragons aren't the only thing storming across Sornieth. As the days grow short and the temperature drops, dragons will be battling a harsh weather cold front.
Autumn Breeze
apparel has now been cycled out of the
Treasure Marketplace
, and
Winter Wind
apparel has been cycled in, where it will remain until
Friday, March 20th
.
Additional Updates
An issue where a subsection of items were being gathered at an increased rate as compared to others has been corrected.
The Festive Favors page will now always properly display what holiday is coming up next.