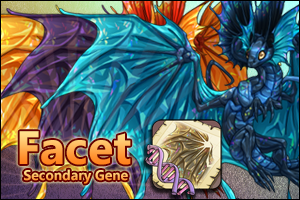 Dragons with shining wings are beginning to appear in Sornieth! The facet gene has been released!
Click here to read more about today's update.
Facet Secondary Gene
The facet gene is available in the
gem marketplace.
This gene places a sparkling crystalline finish across the wings of your dragon!
Coliseum Skin & Accent Contest 2014 Reminder
A reminder that this month we are holding a
coliseum skin and accent contest
. You have until December 30th to complete your entries!
Click here for more information on how to enter!

Registration Window
We are happy to announce that
Flight Rising
will be open for a registration window on Monday, December 15th.
Registration will be available at 05:30 Server Time on Monday December 15, and close at 05:30 Server Time on Tuesday, December 16.
We are very excited to open the gates once more and welcome new clans to the world of Flight Rising. Be sure to tell all of your friends! Accounts that you refer award you with
free gems
when your friend purchases them.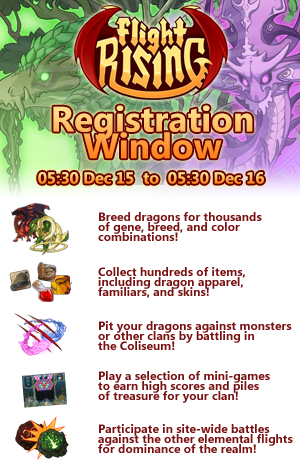 (NOTE: Please remember that Flight Rising's Terms of Use and Multiple Account Policy prohibit registering more than one account per person.)
Flight Rising Developer
Best Artist Not Allowed to Art | Business Ops | Engineering