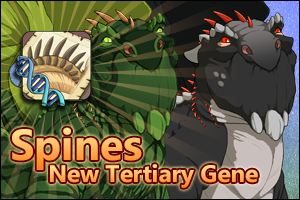 Dragons everywhere are growing out their spines in a variety of brilliant colors.
Click here to read more about today's update.
Spines Tertiary Gene
Several dragon species have begun to exhibit the spines gene, a dangerous and beautiful defense! This gene displays your dragon's tertiary color across a rows of spikes that trail down your dragon's neck, back, and tail. Spines scrolls are now stocking in the
treasure marketplace
.
Rockbreaker's Ceremony 2014 Skin & Accent Contest
The second annual Rockbreaker's Ceremony will begin November 23, 2014. To celebrate we are running a skin and accent contest honoring the earth flight.
Click here for more information!

Coliseum Rewards
The flora and fauna of the
Arena, Waterway, and Bamboo Falls
are dropping new food items! Can you guess which opponents drop these items?
Additional Updates
Second place dominance did not update Sunday morning. It has been correctly awarded to light flight, and all light members should have sunday and monday's treasure bonus and gathering turns awarded to them.
The retired skins Riot of Rot encyclopedia entry has been updated with 2014's skins.
The retired apparel encyclopedia entry has been updated with Riot of Rot 2014 items.
The cycled-out items encyclopedia entry has been updated to include the Graveyard Guardian.
The Boreal Wood encyclopedia entry has been updated to include the morganite flourish jewelry drops.
Gale Wolf no longer drop Zephyr Sparrow.

Chimera have had the drop rate on emerald rat snake reduced.
Flight Rising Developer
Project Management
|
Engineering Team Cheerleader
|
UI Designer