Hello again! Welcome to another edition of
Words on the Wind
. In this issue we'll be consolidating several discussion points brought up in our Q&A thread, clarify our Suggestions Forum policy, show off some of the latest community creative projects, and we've even got previews of some things on the horizon!
Table of Contents
Registration Window - Oct 13
Moderators
Bug Reports
Site Optimizations
Q&A Recap
Preview - Crystal Primary Gene
Preview - Armor Art Update
Preview - Vault
Community Spotlights:

Clan Lair Locations
Trick or Treat!
Describe Your Lair In a .Gif
Dragon Share Spotlights
---
Registration Window: Monday, October 13
We are happy to announce that
Flight Rising
will be open for a registration window on Monday, October 13th.
Registration will be available at 5:30 Server Time on October 13th, and close at 5:30 Server Time on Tuesday, October 14th.
We are very excited to open the gates once more and welcome new clans to the world of Flight Rising. Be sure to tell all of your friends! Accounts that you refer award you with
free gems
when your friend purchases them.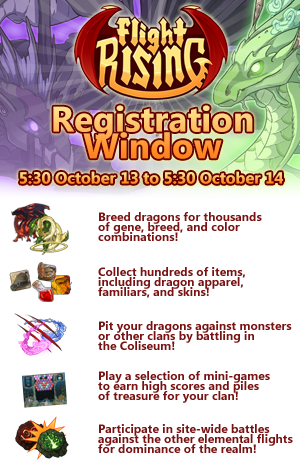 (NOTE: Please remember that Flight Rising's Terms of Use and Multiple Account Policy prohibit registering more than one account per person.)
---
Flight Rising Moderators
There have been a few questions and misconceptions about what role our moderators take on the site, and the scope of their involvement and abilities. We would like to clarify that role so that everyone is clear on what everyone should expect.
The Flight Rising moderator team is a solid group of volunteers/leaders that set a great example for the player base. Moderators on Flight Rising are expected to have accounts in good standing, have a willingness and eagerness to provide support, and exercise a cool and impartial disposition, even when things are very heated. They should remain helpful and informative.
The duties of our moderators include the following:
Guiding derailed threads back on-topic, if necessary
Moderating threads should they begin to break rules or become increasingly negative
Reporting back to us should a thread or discussion become a major problem
Providing general feedback on how the community is behaving overall.
Our moderator team is not involved directly in the site's development and are not responsible for account penalties or customer service issues. They are a group of talented and helpful volunteer individuals, and are encouraged to use and enjoy Flight Rising the same as any player.
We would like to extend our gratitude to our current team and those who have lent their assistance in the past. Without your help, this wouldn't be possible.
---
Bug Reports Forum
Our Bug Reports forum is where we collect information on any unintended defects that may cause gameplay implications for the site and our community. It is not a forum for customer service-related inquiries, and as explained in the previous section, our moderator team cannot assist with them. Should you need customer service assistance, please use the form on our
Contact Us
page.
It is not possible for our engineers to fix every reported bug immediately, but we will make efforts to collect information, document it, and use various reports to attempt to reproduce issues. In almost all cases, we will ask you to employ the troubleshooting method of clearing your browser's cache/cookies, trying to replicate the issue on another browser, or collecting information about your device hardware or internet connection. These troubleshooting steps provide us invaluable data towards understanding if the issue is global, specific, or an edge case.
The role of our moderator team in the Bug Report forums is to ask players to exercise these steps and report back, as well as organize high-volume reports into tracking threads for easier management. Because they do not have insight to the development process, they are unable to provide estimates or speak definitively about when or if a bug can be fixed.
We ask that all players check our Known Issues sticky thread as well as make efforts to look for a tracking thread (marked with a [T]), should it match the issue they are experiencing. Our engineers watch this forum regularly, and when reports are consolidated it is much easier for them to get a solid idea of what's going on.
If you create a thread in the Bug Reports forum, please make sure that the title of the thread is a summary of the issue and is as concise as possible. In the report itself, please make sure to list steps we can follow to reproduce the issue, as well as any troubleshooting you tried prior to filing the report.
---
Site Optimizations
While Flight Rising is in a constant state of optimization and improvement, the bulk of major changes are already underway. The first phase of this work, as you have all seen, has been deployed and we are in the middle of follow-up work to diagnose its effect on the site. These deployed pieces are being developed on the www1 subdomain, which will be a long-term fixture on the site as we continue.
We understand that there are some scattered reports of players having trouble interacting with the site since these changes went in, and we are doing our very best to analyze why that's occurring so that going forward we can make the changes necessary to alleviate it.
These optimizations are a long-term project, and because the work is vast and involved, it will need to be performed in chunks. While the site is in this transitionary state, we must also make decisions about how and when brand new features are developed, so that they function with the optimizations properly and do not cause unncessary waste of development resources.
For the immediate future, much of our focus is on bug fixes, quality of life improvements, and preparing the site for further registration windows.
---
Q&A Recap
It has been a very busy week in the
Questions & Answers
thread. As requested, here are a few of the things we discussed with you:
Dragon Naming
There has been a lot of discussion regarding how our team has handled dragon name reports. Even with good intentions in mind, we acknowledge that we've been a bit overzealous in our efforts to protect our players from harassment. It has caused misconceptions, doubt, and frustration in some of you.
We issued an apology
, stepped back and re-evaluated our previous actions, and took time to craft and clarify our
Naming Policy
going forward. We feel that it is our responsibility to make sure those rules are clearly posted in a place for everyone to access easily, and want to thank everyone for their contributions to the discussion.
Multiple Accounts
Additionally, we have had many questions regarding our stance on multiple accounts. Flight Rising has always maintained a one account per player policy. Many of our players have expressed apprehension and worry, and we wanted to make it very clear that we always explore context in each case and are very thorough in our review process.
We created our
Multiple Accounts Policy
for that reason, which clarifies what multiple account behavior is and how players may appeal should they feel that there was an error.
Coliseum Parallax Visual Effects
For the time being, we have disabled the parallax visual effects from Scorched Forest, Boreal Wood, and Kelp Beds. We recognize that these effects have been causing eye strain and severe discomfort in some players. In the future, we would like to implement a toggle so that those who enjoyed the effects can turn them on individually.
The Name of the World
Dragonkind has been diplomatically calling their homeworld "Sornieth" (draconic for "our planet") for ages! The earth, air, fire, and water has their own specific name for the realm, and we plan to explore that (and other topics)in future lore articles.
Suggestions Forum
In an effort to maintain clear expectations, we have expanded and clarified our
Suggestions Forum Policy
, which lays out information about the intent of the forum, the conduct we expect from posters there, as well as our stance on development interaction within it. You can find the policy in our
Policies and Support Articles
hub in the
Encyclopedia
.
As the site grows, we would like to expand this hub to include documentation on conduct, policies, and account support. Much of this information in the past was being disseminated through forum threads and in answering customer service tickets, and we feel it's our responsibility to make sure that information isn't lost and is in an identifiable place on the website for everyone to access.
Secure Item Trading
We've received suggestions, questions, and concerns surrounding the desire for an on-site method to facilitate secure item trades between players. We understand how important it is for players to feel safe when exchanging things with one another, and can say that we will be working towards developing this type of feature in the future. Whether or not it ties into the Crossroads is still not decided, but we wanted everyone to know that it's a function we have wanted, too, and that we'll be moving forward with it.
---
Preview: Crystal Primary Gene
We're preparing the next gene release: Crystal. This shining primary gene will transform your dragon's body in a glimmering, crystalline hide. Crystal will be available in our Gem Marketplace later this month.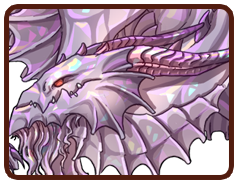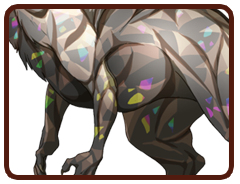 ---
Preview: Armor Art Update
As many of you know, the
Dented Iron
,
Burnished Gold
, and
Ornate Platinum
armor sets are some of our very oldest items on
Flight Rising
. When the apparel system was being developed, we had a lot of items to complete in a short amount of time, and we feel that this particular set suffered during that process, as we employed several scaling/warping shortcuts to produce it for all of the dragon breeds available. The line art is thick and dark on some pieces, lending to a stylistic clash in the worst cases. The gold looks more like brass, and the ornate platinum doesn't really have the decorative finish it should have.
Our techniques since then have seen many improvements, and in an effort to help bring this set up to the current quality of items available on the site, it is going through a revamp, and should be available soon. Below is a preview of how the helmets will look once this artwork change goes through, and a work-in-progress shot of the whole set as compared to its older counterpart:
---
Preview: Vault
Do you wish to safeguard some of your rare collector's items? Ever had treasure or gems just burning a hole in your pocket, when all you're trying to do is save up for that special gene or that next lair expansion?
We are developing a new tab for your clan's Hoard called "Vault." This feature will allow you to move items from your other inventory tabs into the Vault tab so that they'll be untouched when you are converting or selling. They'll also be obscured from your message attachment window in the message center and auction house sell window so that you don't accidentally sell them or give them away.
In addition, you'll be able to deposit treasure and gems into the Vault for later use.
---
Community Spotlights
Clan Lair Locations
Our social media has been abuzz since
Beastclans on the Rise
went live! The new information and lore is inspiring some players thinking about where their clans reside the realm. Check out this collaborative map (organized by
bonecastlefr
) below. Where does your clan reside?
Trick or Treat!
While
Flight Rising
itself does not celebrate a holiday that resembles Halloween, it hasn't stopped our players from enjoying a similar type of event! Dragons dressed up in their fanciest costumes took to lairfronts looking for treats. Although registration is closed now, there were tons of participants and lots of creative outfits!
Describe Your Lair In a .Gif
This funny thread
has players describing the essence of their dragon clan in a single image. There are a lot of really great ones, but this one might be our personal favorite:
Dragon Share Spotlights
Flameforger's Festival!
@
Icedragon3000
's Dirge!
Fall
@
highcastle
's Willow!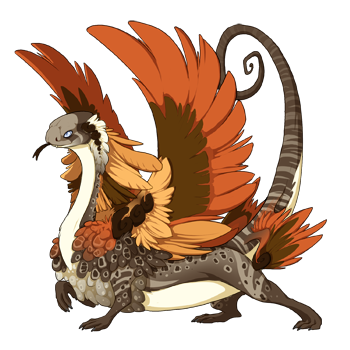 Grayscale
@
micahjaguar
's Logos!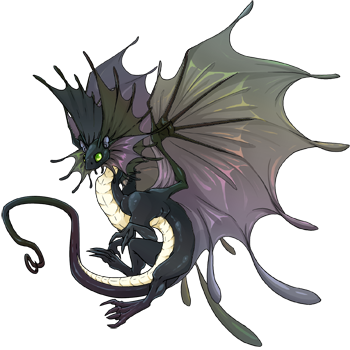 Starfall Celebration
@
hitagashi
's Lweonya!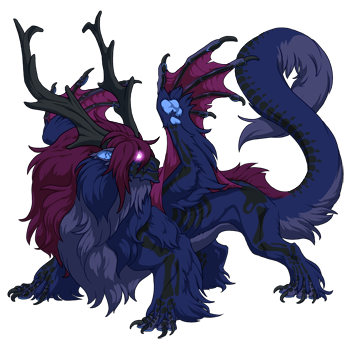 Pairs
@
Sareaza
's Omnitrix and Ultimatrix!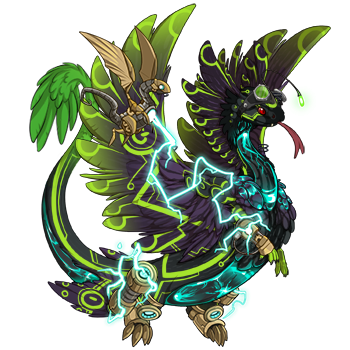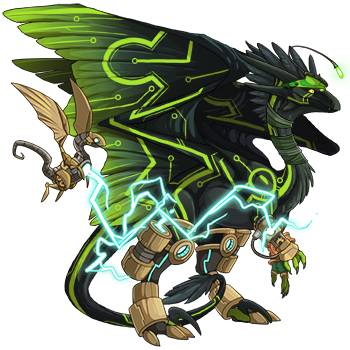 ---
And that wraps up this edition of
Words on the Wind
! Thank you and we'll see you again in
Words on the Wind, vol 9
!