Winter's on the wing in the realm of
Flight Rising
, so why not celebrate with a bit of a tribute to our fine-feathered friends? Several species of birds have been migrating, making stops in the various elemental regions. These brave tweeters have no fear of dragonkind, and many are content to call heads, hides, and shoulders their temporary home.
The following colorful birds can be purchased from the
Apparel page of the Gem Marketplace
:
If value is more your style, the whole flock can be purchased
as a bundle
as well!
Birdskull Apparel: Additional Colors
We've been listening to your feedback about broadening the spectrum of the Birdskull set you all love so much. So, in keeping with our feathered theme, we're glad to announce that we're adding five additional sets in the following colors, that will be available via the
Treasure Marketplace
, the
Coliseum
(tropical), and
Swipp's Swap Stand
(aqua):
New Familiars
If that weren't enough, a common pest has recently been domesticated. Many clans are befriending these birds and teaching them to carry messages for them. You can find these familiars in our Treasure Marketplace: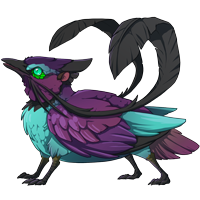 Coliseum Loot Changes
In our ongoing work to balance out the spread of loot and food that can be found in the Coliseum, many monsters across several venues have had loot adjustments in the form of drop rate changes and many new items! Below are some of the items that are now found on defeated enemies:
Additional Updates & Changes
We are in the midst of making final preparations and implementing optimizations to our registration system that will pave the way towards a registration window. Although this had been set back by a number of outside factors, it is moving forward, and we wanted to let everyone know that registration will be available as soon as these changes are in, tested, and confirmed working. Thank you for hanging in there with us while we took care of some critical issues - we know we specified January/February and are sorry that this target was missed.
Akiri wanted us to send along word that he is doing better each day, and we are extremely happy that our friend is healing. He's always been tough, so we had no doubt he would mend. Thank you again for all of your well-wishes and concerns; he feels very fortunate to have that positive energy from the community.
The Red Birdskull Legband trade will be leaving Swipp's list at the end of the month. This item was not exclusive to Swipp and can be obtained from chests and through the marketplace.
Several dragons born on February 23rd and the morning of March 6th had an issue where the images could not be updated or redrawn. This has been corrected. Click the small "x" button next to the dragon's name on lair view to regenerate its image or equip apparel to prompt a refresh if your image was displaying incorrectly.
An issue that prevented messages with item codes in them from being opened has been resolved.
Flight Rising Developer
Project Management
|
Engineering Team Cheerleader
|
UI Designer