Howdy!
I've sketched up horizontal banners/sigs for all the breeds, focusing on the eyes with some wings shown to make up the background/show off secondary.
Click here to see completed bases/examples
.
While they're still unfinished, adopts will be limited to the following:
-
ONE
dragon at a time for completed bases until
all
bases are finished
- Sponsoring a breed will get you two dragons on the base of that breed
- ANY skins/accents or visible apparel for sponsors comes with the charge
-
I do not believe in charging the same for Basic dragons
-- If you want to sponsor a breed but have a triple basic dragon with no apparel/skins/accents, the cost will be
half
Opening cost is 500g or $5 PayPal
to SPONSOR a breed! You get
two
dragons.
If you are sponsoring a breed, any additional dragons up to 5 dragons per base YOU sponsored will be half cost. Past 5 dragons will be full price.
Adoptable Prices:
Base Price (as in, triple-basic)
100,000T = 100 G = $1 USD PayPal or
Cash.me
For the duration of Flameforger's, I will take Glowing Embers at 1:500, skins and chests at 30k each, and other fest currency at 1:1000.
(primary genes listed also include their secondary counterpart,
underlined
genes are terts,
bolded
items are eye types. You will only find
special
eye types on here, not common through rare. Some genes don't show much on the bases & will not be charged for. Updated list once all bases are finished)
+25g Genes:
Tiger
Clown
Speckle
Bar
Vipera
Piebald
Cherub
Giraffe
Jupiter
Falcon
Savannah
Python
Underbelly
Spines
Okapi
Glimmer
Stained
Contour
Capsule
Ghost
Firefly
Glowing
+50g Genes:
Ripple
Poison
Petals
Skink
Tapir
Pinstripe
Jaguar
Gembond
Smoke
Thylacine
Runes
Scales
Lace
Faceted
+100g Genes:
Iridescent
Crystal
Metallic
Wasp
Circuit
Crackle (I hate it)
Opal
Smirch
Filigree
Multi-Eye
Primal
Skins, Accents, and Apparel will depend on the level of detail
, please ask.
Form is below. Please read
how to fill it out
. Incorrectly-filled forms will be ignored, I'm not gonna do the work for you TWICE. :)
DO NOT LEAVE BLANK SPACES. If you do not tell me if you want apparel/skins/etc and your dragon has something on it, I will assume you DO NOT WANT ANY.
Username
- You can get your ID right in your address bar of your Lair or go to your main page and look here:
Dragon
- For your Dragon Code, click Generate Code and select
ALL
of the text under BBCode.
This is the #1 thing that will break your application
and will result in being passed over.
Apparel
- If your dragon has apparel but you don't want any, please put No. If it has none, you can either delete this space or put N/A. If it has apparel, please list all apparel that might show & I will give you a quote.
Skin/Accent
- Just like apparel.
Customs
- This is for items/details not pertaining to FR basics, such as "Broken horn, slitted pupils, no pupils, angry expression," etc. Put N/A or delete if not needed.
Additional Notes
- Notes pertaining to FR basics, such as alternate genes, eyes not on the dragon, a skin you don't have yet, apparel you intend to get, wanting the opposite gender's lines,
if the dragon is supposed to be a different breed
, etc.
Background
- By default, any visible background will be representative of the dragon's Flight. These spaces are small, but customs can be done. If you're okay with the Flight colour, N/A or "Basic" is fine.
See below THIS form for an example of a completed one:
[Fill this out!]
Form wrote:
Username & ID:
Dragon code:
Apparel:
Skin/Accent:
Customs:
Additional Notes:
Background:
---
[EXAMPLE FORM ONLY]
EXAMPLE wrote:
Username & ID:
Stryder #29803
Dragon code: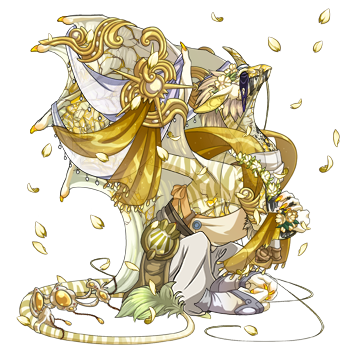 Apparel:
Daisy Crown
Skin/Accent:
Accent: Gilded Memories (You may also use [ skin=] with spaces removed and the ID#, example
)
Customs:
N/A
Additional Notes:
Would like the gem from the Gossamer Fillet gem only, no chain needed!
Background:
I want it to be a split battle between Light and Shadow
These aren't even measured yet! If you know the max size of the sigs, I will send you a small gift. :P
Found, thank you! Sketches below are rough, see the second post for examples.