Click or tap to view this dragon in Predict Morphology.
Expand the dragon details section.
Collapse the dragon details section.
---
Personal Style
Apparel
Level 1 Mirror
---
Biography
Russ

(

Ruh-ss

)

Status:

Hoard Manager

Joined the clan as an Unhatched Egg.

---

Even the most stoic of the clan feels uncomfortable under the silent gaze of this dragon.

Often seen in a disarrayed state, shambling down corridors, or holed up in a room messily devouring raw meat, Russ does not care much of what others think about him.

His private chambers are very dark, with small portions dimly lit by only a few scattered candles. The yellow flickering flames dance across the walls, offering brief glances at how decayed the old wooden support beams and rock walls have become. The floors are equally uninviting, covered in a carpet of charred and rusted metal panels that have been welded together haphazardly.

Wooden crates make up most of the furniture inside, and various types of bones ornament them.

----

SCARS

It is a bit of a mystery - exactly how such a terrible wound was inflicted upon his neck and face. Russ has never left the clan's territory even once since he was hatched, and he certainly has never been involved in any hunting-related activities.

Did he wander off alone and get hurt? Was he attacked on clan grounds? Did an unfortunate, terrible accident occur when he was alone?

No one will ever know, because he has never spoken a word.

----

BONES

Russ seems fascinated by bones.

As a hatchling, he would sit in the hoard's loot piles for hours separating the bone jars and bone fragments from the rest of the materials, and then sort them by size and shape.

His assigned role in the clan is to manage the Hoard. It's a job most others would find boring, but it's hard to disagree that it's the perfect role for Russ. He spends hours cleaning and sorting just the bones.

Russ has expressed interest in joining a Coliseum hunting team, but so far the other dragons in the clan have refused to form a team with him.

---

Goals:

-

Freckle Secondary Gene.

DONE

- Underbelly Tertiary Gene? Crackle? Can't decide!

- Reach level 25 in the Coliseum???

Familiar:

NA

Personal Items:
---
ART:
---

By: Proxima
---
By: Khaleezy
---
by: Shaniae
---
---
---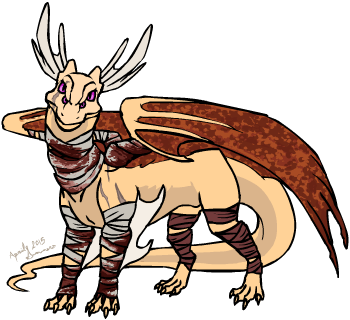 ---
(Link):
Rusty Dragon.
Click or tap a food type to individually feed this dragon only. The other dragons in your lair will not have their energy replenished.
This dragon doesn't eat Insects.
Feed this dragon Seafood.
This dragon doesn't eat Plants.
Exalting Russ to the service of the Shadowbinder will remove them from your lair forever. They will leave behind a small sum of riches that they have accumulated. This action is irreversible.
Do you wish to continue?
Names must be longer than 2 characters.
Names must be no longer than 16 characters.
Names can only contain letters.
Names must be no longer than 16 characters.
Names can only contain letters.