Dragon Lair
Nesting Grounds
Gather Items
Clan Profile
Hoard
Messages
Merch
Marketplace
Auction House
Trading Post
Crossroads
Custom Skins
Fairgrounds
Coliseum
Dominance
Dustcarve Dig
Forums
Dev Tracker
Which Waystone
World Map
Search
Dressing Room
Scrying Workshop
Game Database
Encyclopedia
Media
Support
This way or no way - you know, I'll be free
Click or tap to view this dragon in Predict Morphology.
Expand the dragon details section.
Collapse the dragon details section.
---
Personal Style
Apparel

Skin
Scene
Measurements
Genetics
Abyss
Starmap
Abyss
Constellation
Cream
Ghost
Level 1 Wildclaw
---
Biography
This way or no way
You know, I'll be free
Just like that bluebird
Now, ain't that just like me?
-



Eclipse otherworldly • noble • kind


"Look up here, I'm in heaven... I've got scars that can't be seen."





Somewhere in the outermost corners of the cosmos, resting dormant upon a flowerbed of stars, is the skeleton of a dragon. It's bones, darkened with age, are lit by the strange white sun that hangs ominously in this plane.
Ever close, a white robed woman stands holding a candle, her blind eyes turned upwards at the sun expectantly.
As if on an unspoken cue, a bright black star begins to cloak the sun, dousing the plane in a full eclipse.
The woman lights the candle and, crouching down to the skeleton, gently holds the white flame up to it's skull.
"It's time", she whispers, tears falling down her cheeks.
Two pale blue eyes open within the skull and look at her with recognition.
She takes a step back as the blackness of space and the stars themselves take form and fill out a body to lift the skeleton from it's eternal rest. Dark stardust-swathed wings unfurl and the dragon takes flight, it's screech an echoing, haunting goodbye.

The woman smiles but the tears just don't seem to stop.


Role
A.K.A
Gender
Mate
Familiar

War God
Lazarus
Male
--
--

Of
Status
Alignment

Afterlife
Awake
Neutral Good




coding by Rainfrog

History

b. 40kg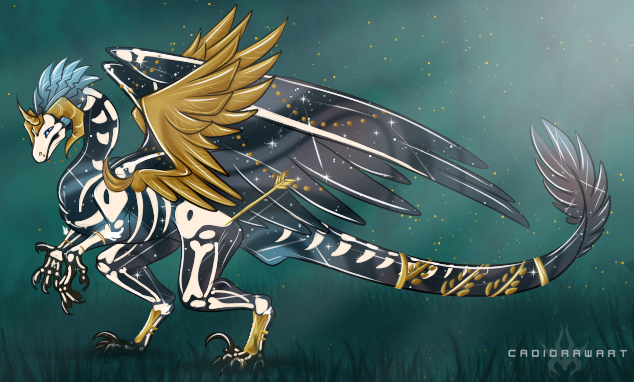 art by Pestilential
Click or tap a food type to individually feed this dragon only. The other dragons in your lair will not have their energy replenished.
This dragon doesn't eat Insects.
This dragon doesn't eat Seafood.
This dragon doesn't eat Plants.
Exalting Eclipse to the service of the Gladekeeper will remove them from your lair forever. They will leave behind a small sum of riches that they have accumulated. This action is irreversible.
Do you wish to continue?
Names must be longer than 2 characters.
Names must be no longer than 16 characters.
Names can only contain letters.
Names must be no longer than 16 characters.
Names can only contain letters.