Click or tap to view this dragon in Predict Morphology.
Expand the dragon details section.
Collapse the dragon details section.
---
Personal Style
Apparel



Skin
Scene
Level 8 Skydancer
---
Biography
OMARI




Border Patrol

Loyal to the end, Omari is a stoic, but fierce ally to any dragon who develops a connection with him. Despite his friendly personality and willingness to make friends, he only has a select few he consistently hangs out with. He would rather have one or two close friends who know him almost too well rather than have many friends that don't know him as well. Omari has been left speechless by a deep wound in his throat inflicted during a battle. Omari has become an expert at Draconian sign language after spending many years practicing it with some Coatls who had learned it to better speak with a rival troupe of Faes. He finds it amusing when his friends attempt to sign back to him. Their attempts, although clumsy, are appreciated.

Omari has stayed with his birth clan, representing the third generation of original clan members. This prestige means little to him, but he knows that it could mean that he must lead one day. He feels under qualified for such a task and hopes that he will never be needed for leadership. When Omari is not patrolling the clan's territory he can be found writing in his journals. For now, he is content to speak to the Coatls, teach his friends sign language, and write down his war stories.



Personality
???
Libra
Stoic, Intelligent, Adventurous, Calm

Love Interest(s)
none

Friends


Favorite Familiars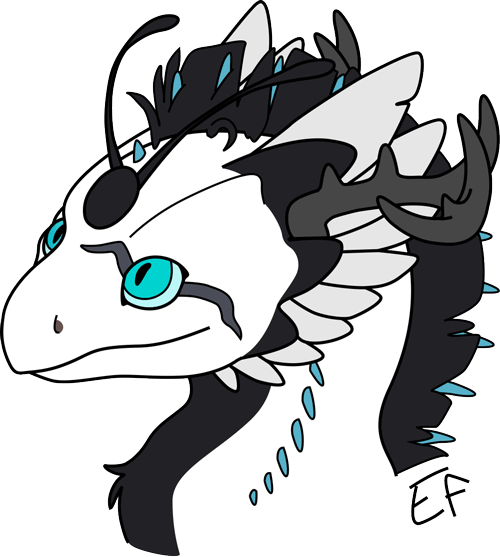 Quote:
Review by
Sozz
"This dragon is something special! You've used his accent to give him the appearance of being colored differently, and it's a fantastic effect! Black and white never fail to go well together, darling! More importantly, you've made his brightly-colored tertiary work, too! The Spines offer just enough color to stand out, but not enough to throw the whole palette off balance!
I'm thoroughly enjoying your apparel choices! They're typically sparse, but in a tasteful way! Your dragons aren't bogged down by apparel, leaving their natural beauty to shine through (although there's certainly nothing wrong with a lot of apparel, either)! Going with black for his ensemble was smart! It contrasts against his white body well, while blending in with his black accent! Very sleek! Very modern!"
Review by 431376 wrote:
"HELLO??? he took everything i said about skins and basically cranked it up to 11! omari has such a complete look to him i had no idea he was double Basic at first! the wisp brings out his eyes on an otherwise monochrome body, and i love that you chose the vest for him - i never see anyone use it, and it's a nice piece of apparel. he's an example of how you've mastered the art of making dragons look complete while not using flamboyant or bigger pieces such as fest apparel. bravo!!"
Click or tap a food type to individually feed this dragon only. The other dragons in your lair will not have their energy replenished.
Feed this dragon Insects.
This dragon doesn't eat Meat.
This dragon doesn't eat Seafood.
Exalting Omari to the service of the Stormcatcher will remove them from your lair forever. They will leave behind a small sum of riches that they have accumulated. This action is irreversible.
Do you wish to continue?
Names must be longer than 2 characters.
Names must be no longer than 16 characters.
Names can only contain letters.
Names must be no longer than 16 characters.
Names can only contain letters.