Click or tap to view this dragon in Predict Morphology.
Expand the dragon details section.
Collapse the dragon details section.
---
Personal Style
Apparel
Skin
Scene
Measurements
Genetics
Green
Pinstripe
Rose
Toxin
Thicket
Runes
Level 1 Obelisk
---
Biography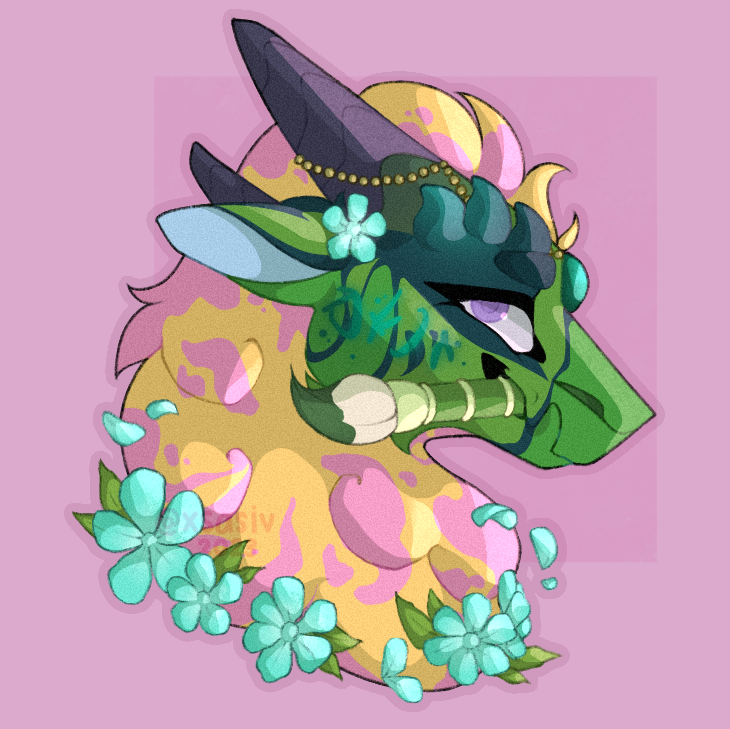 By
xsasiv
By
Probablynx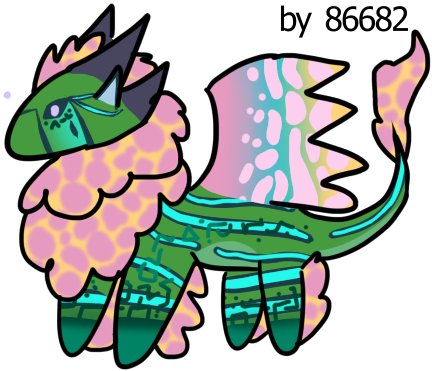 By
LunarShadow
By
CelticFox
---
"Frugretor, what is this?" Ender inquired.
The clan's resident earth primal had left the lair about a week ago to investigate the massive dig project in Dragonhome. As clan leader, Ender gave her permission to visit her homeland, and he was also curious as to what the dig what procure. He never expected the primal to return with a whole dragon-shaped statue by her side. Moreover, the statue radiated some sort of divine power, the likes of which he had only felt from one other dragon before.
Using her earth magic, Frugretor carefully lowered the statue in front of him. "Velya called it an Obelisk created by the Earthshaker himself. There's supposed to be a dragon inside it, but I didn't listen that far. I took one of the statues and left before I heard her full explanation. Was that a bad decision?"
Ender almost wanted to smack his head against the statue in frustration. "Yes? Of course it was! Why did one of the deities suddenly create a new breed of dragon, and why did you steal one of them if you hardly even know what they are? I wasn't even at the dig, so I know less about this thing than you should!" He growled, "You aren't hiding something from me, are you?"
She calmly responded, "What would I have to hide? I told you everything I heard from Velya, and it's not a lot because I truly didn't stay there for long. And I didn't steal the statue—they were being distributed among clans that participated in the dig." She turned back to the statue. "Even if I don't know much about it, I'm sure I can easily break the stone encasing this Obelisk. It is but a shell. Can you not feel the life pulsing inside of it?"
Ender shook his head. If there was a lifeforce emanating from the statue, the Earthshaker's magic was stifling his ability to detect it.
Frugretor placed her paw at the statue's base. At the call of her magic, cracks splintered along the surface. The stone shattered to reveal a green dragon with a mane of brilliant pink. He opened his eyes, dazed and confused.
"That is an Obelisk?" Ender gasped.
"It looks similar to the rest of them," Frugretor confirmed. The Obelisk shook dust and stone shards off its body. "May you introduce yourself to us, Obelisk?"
The dragon blinked. He opened his mouth, only to cough out a cloud of dust into Frugretor's face. The primal didn't flinch. They waited until the dragon's wheezing ceased. "Oh-HEK!" He coughed up a pebble.
"What did he say?" Ender asked.
"I don't know. Obelisk, can you speak to us? What is your name?"
"Aw-bee-
ilck.
" He spat a stone shard in front of him before trying again "Obe-HIC!" His eyes went wide at whatever got lodged his throat.
Ender perked up. "Oh, I know what he's trying to say now! It's the name of his breed—"
The Obelisk retched a whole satchel's worth of pebbles onto the floor. He cleared his throat before finally announcing, "Obby! Sorry about that, seems I sucked in a lot of rubble when you freed me. My name is Obby, nice to meet you!" He grinned, displaying a set of long canines.
"...What."
Frugretor slapped Ender's wing with her tail. "Don't be rude!"
Click or tap a food type to individually feed this dragon only. The other dragons in your lair will not have their energy replenished.
Feed this dragon Insects.
This dragon doesn't eat Meat.
Feed this dragon Seafood.
This dragon doesn't eat Plants.
Exalting Obby to the service of the Arcanist will remove them from your lair forever. They will leave behind a small sum of riches that they have accumulated. This action is irreversible.
Do you wish to continue?
Names must be longer than 2 characters.
Names must be no longer than 16 characters.
Names can only contain letters.
Names must be no longer than 16 characters.
Names can only contain letters.