Click or tap to view this dragon in Predict Morphology.
Expand the dragon details section.
Collapse the dragon details section.
---
Personal Style
Apparel
Skin
Scene
Level 1 Wildclaw
---
Biography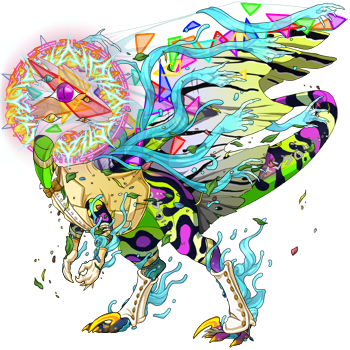 ---
---





NO ONE'S AROUND TO HELP


VIBING > Cool Dude > Rad > HOME - Resonance
King of Good Vibes and Questionable Choices




-Here for a good time not a long time.
-Up for anything
-May or may not steal all of your left (only the left) socks.
-Likes cheese
-Dislikes pants
-Wanted in 40 states for murder and tax evasion


You take a shortcut home from work one day, heading down an alley no one ever goes in when you hear the distinct sound of club music coming from a door you haven't seen before.

Normally you aren't the party type but curiosity hits you as you go to open the door. Inside isn't exactly the sight you thought you would see. Instead of a lively club there only seems to be one room and it's a small one at that. There are several obnoxious flashing lights in the room along with decorations that look like they belonged in the '80s, the music is too loud and the place smells of bad decisions.

In the middle of the room you see a man, or, is it a man? Whatever it is he is wearing the most garish and bright outfit you have ever seen, his body is dripping with sweat as the dances out of sync to the music. How long has he been here?

The more you stare at him the more a bad feeling forms in the pit of your stomach, so, deciding not to overstay you welcome you quickly exit the strange room when the door closes behind you the music stops but you don't decide to look in the strange room again. You walk home wondering what the hell you just witnessed.

---
---
Click or tap a food type to individually feed this dragon only. The other dragons in your lair will not have their energy replenished.
This dragon doesn't eat Insects.
This dragon doesn't eat Seafood.
This dragon doesn't eat Plants.
Exalting AroundToHelp to the service of the Shadowbinder will remove them from your lair forever. They will leave behind a small sum of riches that they have accumulated. This action is irreversible.
Do you wish to continue?
Names must be longer than 2 characters.
Names must be no longer than 16 characters.
Names can only contain letters.
Names must be no longer than 16 characters.
Names can only contain letters.