And there's nothing left to fear in this impossible frontier
Click or tap to view this dragon in Predict Morphology.
Expand the dragon details section.
Collapse the dragon details section.
---
Personal Style
Apparel
Skin
Scene
Level 1 Skydancer
---
Biography
Alathfar
The Adviser
---
















Waking up in the fog, the dust and the pain...




xxx

Once, a long time ago, during the first eras of the clan that would one day become Fernwood, Alathfar was a cunning and ambitious Council lord who went through lovers and affairs like a smoker goes through cigarettes, gathering a handful of powerful allies and an army of powerful enemies. He was arrogant and harsh, and as he dug his claws deeper into the position of power he'd carved for himself by Carina's and then Aquila's side, suspicions festered behind a thin veil of civility. Unbeknownst to the Adviser, rumors that couldn't be discussed in broad daylight were muttered in dark caverns and seeped into the cracks of every conversation, painting his words against a backdrop that he, blinded by power, was never aware of until it was too late.



xxx

That was the first time Alathfar should've died: framed, wrongly convicted, and executed for the murder of Carina's family by a clan that was, thanks to the half-truths whispered by his enemies, biding their time for proof of some transgression to surface. Facing the wrath of what had once been his most powerful allies, Alathfar realized all too quickly that his delusions of grandeur had been just that: delusions. He spent sleepless nights searching for any proof that the evidence against him had been forged, trying in vain to poke holes in a perfectly watertight case, and when that failed, doing something he'd never imagined himself capable of: begging for mercy. But his pleas fell on deaf ears. It should've ended there, with his dead body dropped into the ocean to be eaten by threshers, and it was only due to the clan's lack of a dragon willing to perform the execution that he managed to get a marginally lighter sentence. He was exiled, his pearl destroyed (for he'd been born a Pearlcatcher), and his wings bore the brand of a murderer to ensure he would not find refuge with other clans. He'd lost almost everything, but still had hope for his survival, until Alastrina approached him, and under the condemning gaze of the Council, snapped the bones of his wings with two simple twists of her metal limbs. Even now, after all these years, he still hasn't forgiven her for that.



xxx

Of course, he should've died during the winter he spent in exile, too; that was the assumption held by most of the clan, himself included. Crippled, stripped of all the power and influence he'd held only days before, and shunned by friends and family alike, he spent many bitter cold nights fighting the temptation to curl up on the frozen ground and stay there until the pain in his wings and his heart went numb. The injustice of it all kept him going, though; not indefinitely, but just long enough. Months later, when the truth behind the murders was uncovered and Aermead's Shade-touched nature was revealed, he was starving, near-frozen, and broken in more ways than one, his scales faded and overgrown with the thorns of the Foxfire Bramble. Grief and regret had wormed their way through the tough outer shell he'd spent so long building and cracked open what was left of the once young and arrogant lord.



xxx

It was Airell who finally found him, and Carina who flew him home and delivered a heartfelt apology on behalf of the clan. His wings slowly healed and his energy returned, but the paleness never quite left his scales, and he wore the brambles like a battle scar, a small piece of the Tangled Forest to keep him company. He never really healed, though; the Alathfar that returned was not the same as the dragon they'd cast out in the early days of winter. He wouldn't repeat the same mistakes twice.



xxx

In spite of his proven innocence in the murder, Alathfar had to work to regain the trust of his clanmates. He'd always been a good adviser, but his character had, to put it lightly, left some to be desired. It was no small feat polishing the tarnished reputation that had been constructed behind his back. Several months later, once he'd recovered fully and made his peace with the clan, he was allowed to reclaim his role as first adviser to Carina, and after that, for a while, it seemed like the worst of it all was behind him. He rebuilt his pearl and his reputation, found a new lover, had children, and then, to his own surprise and chagrin, went against all previous tenets of his personalty when he found himself a mate. Everything was going smoothly, and for a brief time he almost dared to hope that the world would stop spinning and he could live his life out as a leading figure in a hidden clan, tucked safely away from the chaos of Flight politics and the distant threat of the Shade.


xxx

But Fate had other plans.



---




And of the sunny days, no traces remain.




xxx

Every day he wishes he could forget the day of the Discovery, the day his faith in the Gods came crashing down; and the day of the Catastrophe, the day the world came crashing down around him. But try as he might, he still remembers the burning voices of Regulus after he emerged wreathed in flames from the wreckage of the spacecraft, and the look of solemn horror on Adriana's face as she pointed at the tiny sliver of blackness writhing in the center of a specially designed vacuum chamber. There were places scientists weren't supposed to look, truths that were not meant for mortal eyes, and they'd gone into hiding to break those rules, to find those truths that were not meant to be found. But there was a price. There is always a price.



xxx

He should be dead. So many others died in the containment breach. Brilliant scientists, a team of brave astronauts, his friends and family- all within the radius of the Failsafe; all dead, or about as good as, suspended in time for eternity to keep that tiny but deadly particle of the rift they called the Shade from expanding. (It would take a god to save them, but the gods abandoned them the moment they went into hiding.) Yet somehow, it had been him on the other side of that border; him and Carina and Airell who had barely a moment to process the sound of the explosion before the world within the barrier stopped and the shockwave hit. Since then, they've found others who were outside the barrier when it activated; Regulus and the Messenger, Celeste; Alastrina, for better or worse; and, later, his own mate, Tureis, which was the first thing since the Catastrophe that managed to elicit any emotional response from Alathfar and helped to lift some of the survivors' guilt from his shoulders.



xxx

Since then, however, things have been looking up. He cannot forget what he knows, and the past remains a heavy burden for him to bear, but with the return of Tureis, and, more recently, one of his youngest daughters, Rhiannon, it isn't a burden he has to bear alone.

















---
Strength
████

██████


Constitution
███████

███


Dexterity
█████

█████


Intelligence
████████

██


Wisdom
██████████
Charisma
█████████

█


Magic
██████

████




---

Pearlcatcher dragon
Male, pansexual
Neutral good
likes and dislikes

---

mate
friend
enemy
---
banner credit
"do I look like the kind of man who dies???"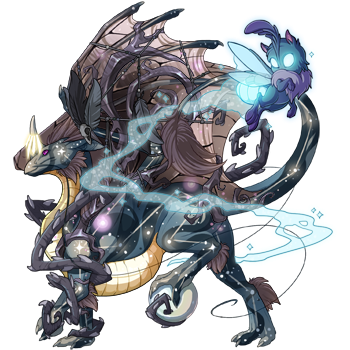 Click or tap a food type to individually feed this dragon only. The other dragons in your lair will not have their energy replenished.
Insect stocks are currently depleted.
This dragon doesn't eat Meat.
This dragon doesn't eat Seafood.
Plant stocks are currently depleted.
Exalting Alathfar to the service of the Gladekeeper will remove them from your lair forever. They will leave behind a small sum of riches that they have accumulated. This action is irreversible.
Do you wish to continue?
Names must be longer than 2 characters.
Names must be no longer than 16 characters.
Names can only contain letters.
Names must be no longer than 16 characters.
Names can only contain letters.