Dragon Lair
Nesting Grounds
Gather Items
Clan Profile
Hoard
Messages
Merch
Marketplace
Auction House
Trading Post
Crossroads
Custom Skins
Fairgrounds
Coliseum
Dominance
Dustcarve Dig
Forums
Dev Tracker
Which Waystone
World Map
Search
Dressing Room
Scrying Workshop
Game Database
Encyclopedia
Media
Support
Click or tap to view this dragon in Predict Morphology.
Expand the dragon details section.
Collapse the dragon details section.
---
Personal Style
Apparel


Skin
Scene
Level 1 Skydancer
---
Biography
O Lórdos Chants chamogeláei páno se aftó to láso kai mas apokalýptei tis pragmatikés dynatóés tis

Keep scrolling for the wishlist
╭━━━━━━━━━━╮


♕




C O V E T




The Wishlist


╰━━━━━━━━━━╯
╭━━━━━━━━━━━━━━╮

╰━━━━━━━━━━━━━━╯
╭━━━━━━━━━━━━━━╮



╰

━━━━━━━━━━━━━━

╯

╭

━━━━━━━━━━━━━━

╮

╰

━━━━━━━━━━━━━━

╯

╭

━━━━━━━━━━━━━━

╮

╰

━━━━━━━━━━━━━━

╯

╭

━━━━━━━━━━━━━━

╮

╰

━━━━━━━━━━━━━━

╯

╭

━━━━━━━━━━

╮

Independent | Principled | Insensitive

╰

━━━━━━━━━━

╯

bio template by

squidragon


adapted by

Katalist

xxxxxxxxxxxxxxxxxxxxxxxxxxxxxx

BIRTHDAY GIRL
BIRTHDAY GIRL
BIRTHDAY GIRL

Bought as a mannequin to hold another dragon's old outfit
Proceeded to fall in love
Bought 1st May 2019 for 8 gems
Wishlist Dragon
Bought and scattered 29/04/2020
Smirch applied 29/04/2020
Tundra to Skydancer 05/05/2020
Leopard applied 05/05/2020
Trail applied 21/09/2020
Original Colours:

Carmine/Tangerine/Azure

Scatter 1 - Ivory/Amber/Silver - Very pretty!

Scatter 2 - Tomato/Antique/Grapefruit

Scatter 3 - Rust/Cantaloupe/Brick

Scatter 4 - Sable/Red/Garnet

╰━━━━━━━━━━━━━━━╯


Everybody has wants and desires… Do I have something you require?




╭━━━━━━━━━━━━

b i o

━━━━━━━━━━━━╮



Covet and Sitka could not be further apart in interests, yet the two exist in harmony. Both dragons hoard, but while Sitka warms her bed with the accumulated wealth of the Tribe, Covet appreciates the sentimentality of items. Dusty parchments with spells and magics contained, rare and forgotten species of familiars, even pieces of clothing that other dragons may showcase. For that is another difference. Covet's hoard changes size and shape, depending on what she is needing, and what other dragons may appreciate. She has a hard time sending needy dragons away from her stocks and will discount her wares substantially for the less fortunate.

Covet was born on a favourable date, and shares the same birthday as Jakobi.




╰━━━━━━━━━━━━━━━━━━━━━━━━━━━╯




╭━━━━━━━━━━━━

l o r e

━━━━━━━━━━━╮


"Aunty Covet!"

Covet turned, her silk veil covering her eyes. Through the white gauze she could see a familiar face. She chuckled and straightened her veil.

"Aspen! My, you've grown darling! How have your sisters been treating you?"

The young imperial had indeed grown. Only her face fit through the tent's tiny entrance, but a youthful grin was stretched over its features. Aspen was glad to see her.

"I've come to say goodbye! And I was wondering if you had any gifts you could spare for my journey!"

"Oh, my dear, have you found another clan to join up with? Don't forget your mother Tribe, we always appreciate letters!"

The tent's walls shook as Aspen wiggled.

"No, aunty! I've been conscripted! I'm going to fight for Glademother herself!"

Covet's smile froze on her lips, and her face went pale. Those who fought didn't come back.

"Darling, aren't you a bit young?"

"No, aunty! The other hatchlings have been talking about signing up for days now! I know Elysia has been really supportive of our cause!"

Her heart broke at the hatchling's deception. Her emotions warred inside her, about her duties to the clan. Should she risk exile and save the hatchling's future, or cement her own, even if it meant the sacrifice of another's life?
She turned around and began to pack items from her shelves into a carry pack. The clunk of items made her turn around. Toys, practice weapons, a hatchlings most prized possessions, were being pushed into the tent. Aspen's face appeared again, with a sad look on her face.

"I know what I'm giving up, Aunty. Please look after my stuff. If I return, I have no doubt I will need these again. I hope another hatchling may use these."

Covet's heart broke as she accepted her decision. Slipping in some wax-wrapped honey cakes, Aspen's favourite, she wrapped the pack up and placed it gently in Aspen's mouth. She felt dirty. She stepped back to rub her face, hoping the guilt on her face wouldn't upset Aspen. Her eyes were stinging, but she was too proud to tell Aspen that.

She turned around to face the tent opening, to tell her goodbye, but Aspen was already gone. On her little pile she had left behind lay a small wreath of pressed lilacs.

Covet still wears it to this day.





╰━━━━━━━━━━━━━━━━━━━━━━━━━━━╯


ETYMOLOGY - Meaning and Origin · To wish for with eagerness; to desire possession of;



RELATIONS -


Sitka
Friend

Sitka and Covet, despite their differences, get along very well. Or, as Covet believes. Whether it's to preseve her reputation, or to distance herself from the other, Sitka will always respond 'Who?' when asked about Covet.




╰━━━━━━━━━━━━━━━━╯





Allium
Friend

Allium is one of the biggest donators to Covet's hoard. He just has a heart of gold, and Covet adores him and his lovely wife. They often bring hatchlings along to the hoard, to encourage the gift of charity. As such, Covet often has hatchlings greet her every day.




╰━━━━━━━━━━━━━━━━╯





Sylvari
Friend

Sylvari gets around in terms of friends. He may be the most popular dragon in the clan, though a lot of his friendships are superficial. Sylvari was one of the first to greet Covet when she arrived at the Tribe, and due to his connections, was able to quickly find dragons that would donate to Covet's cause. He is a vital source of information and a good friend.




╰━━━━━━━━━━━━━━━━╯



---
---
Wishlist:
ART:
| | |
| --- | --- |
| | Choose any dragon that doesn't have art! (There's heaps) |
Unobtained Familiars wrote:



For Ctrl + F Purposes:
Boolean, Coarsefur Yeti, Maned Cobra, Rivermouth Flatbill, Driftwood Baron, Candycane Xolo, Shimmering Xolo, Roundhorn Melprin, Barking Jester, Roc, Crowned Roc, Silver Featherfin, Golden Featherfin, Irregular Nekomata, Glasswing Flutter, Ruffle Glasswing, Longhorn Capricat, Golden Kitsune, Ashen Bicorn Whale, Quartz Cockatrice, Longwing Epiptite, Regenerating Reedjumper, Crazed Powermith, Lithetail Assassin, Dapplemane Deceiver, Longneck Lampooner, Cauldron Crawler, Glam Nudibranch, Spiral Capricat, Fae Ferret, Superb Gryphlet, Sorrel Gryphlet, Bearded Pupowl, Fear Frog, Terror Toad, Deeprealm Leon, Mindless Flight, Giggling Planesrunner, Sparksylph, Spectre Wyvern, Crowncrest Melprin, Golden Roc, Rainbowbeast, Glittering Jeweler, Toxic Igueel, Igueel Matriarch, Crackers, Reserved Jeweler, Chainlink Jeweler, Burrow Bear, Dire Claw, Bihorn Chacma, Basalt Eruption, Swarmsprite Deerling, Scalding Jeweler, Desert Strangler, Fennec Kitsune, Sanddrift Fuiran, Bluejay Gryphon, Brilliant Gryphlet, Curious Jeweler, Delving Jeweler, Barkbound Construct, Crane Contraption, Chalcedony Arcanist, Acid Ant, Ink Ant, Fungal Garden, Furry Fiddle, Muckbottom Catfish, Lion's Mane Seeker, Whisper, Vilevenom Kelpie, Silt Wolf, Growing Jeweler, Supernal Brightbeast, Sumptuous Cape, Corvid Lamp, Fragile Flutterbun, Infatuated Slarg
Genes wrote:
Treasure Gene/Breed change scrolls

Gem Gene/Breed change scrolls

Eyes/Scatterscrolls

Dragons - ordered from most to least wrote:
Apparel (Doesn't need to be a complete set) wrote:
Starsilks or Silks:
Seraph Jewellry:
+ rest of collection
Plumed Apparel:
Tea Sets:
Plus non-bundled tea sets
Chitin Armor:
Plus non-bundled chitin armor
Fancy Apparel:
Plus non-bundled apparel
Sage Gear:
Barbarian's Gear:
Scale Armor Gear:
+ the rest of the aeruginous scale kit
+ the rest of the weathered scale kit
+ the rest of the umbral scale kit
Rose Thorn Gear:
Bones:
Flowers
Winds
Snakes:
Hair
More Hair
Rodents:
Bundles (just an example, will take individual items too)
NotN apparel sets
Retired Festival Apparel
bone hat
Skins/Accents wrote:
User made accents
Keywords: Bones, Gems, Jewels, Space, Gore, Blood, Creepy, Eldritch, Illuminati Imagery, Swamp
Artists:
Alive, Necrophades, Churyu, Snowy, Likeacliche, Toothiana, Ysdaar, Accent, Ravenhearst, Soro, Piney, Spikulec, TunaTuna, Seeker, TalaTari, Endivinity, Apel, Apotheca, Ado, Monako, eearz
As for what I like, just have a look at what covers my dragons. I am way too distracted to make a specific wishlist of pretty accents.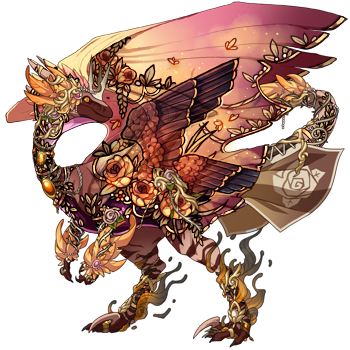 Cotton has a list of all my accents (to make it a little easier ;n;)

Vistas wrote:


For Ctrl + F Purposes:
Alchemical Formula, Animated Statue, Archer's Way, Arena II, Armory, Axolotl, Baldwin's Brew, Banescale Dragons, Banshee Brooch, Black Widow, Bogsneak Dragons, Boreal Wood II, Broken Mirror, Butterflies, Chandelier, Coatl Dragons, Corgi Sploot, Cozy Harvest, Dreary Dirge, Eye See You, Fae Dragons, Feral Visage, Forbidden Portal, Gaoler Dragons, Gem Hoarder, Golem Workshop, Grimoire, Guardian Dragons, Herb Rack, Imperial Dragons, Kelp Beds, Lantern Forest, Living Stones, Mirror Dragons, Nocturne Dragons, Obelisk Dragons, Pearlcatcher Dragons, Rainy Day, Redrock Cove, Ridgeback Dragons, Skydancer Dragons, Snapper Dragons, Snowy Owl, Solar, Something Swarming, Spiral Dragons, Stagcrest, Starksand Dunes, Sticker Star, Succulents, Summer, Swan Lake, Swap Stand, Tentacles, Tinkered Clock, Treasure Hoarder, Tundra Dragons, Veilspun Dragons, Vigorous Goblet, Wildclaw Dragons, Winter.
Also i collect bones
lots
of
bones

my house is made of bones
and i must rattle
Updated- 21:40 Dec 17th 2021
Click or tap a food type to individually feed this dragon only. The other dragons in your lair will not have their energy replenished.
Insect stocks are currently depleted.
This dragon doesn't eat Meat.
This dragon doesn't eat Seafood.
Exalting Covet to the service of the Gladekeeper will remove them from your lair forever. They will leave behind a small sum of riches that they have accumulated. This action is irreversible.
Do you wish to continue?
Names must be longer than 2 characters.
Names must be no longer than 16 characters.
Names can only contain letters.
Names must be no longer than 16 characters.
Names can only contain letters.