Click or tap to view this dragon in Predict Morphology.
Expand the dragon details section.
Collapse the dragon details section.
---
Personal Style
Hatchling dragons cannot wear apparel.
Level 25 Spiral
---
Biography
Skellyfish
Eternal Hatchling | Level 25 | Plague

ORIGINS
Adopted daughter of FireCoral.

NOTES
Although Skellyfish is still a youngster, she already knows what she wants to be when she grows up: A doctor, just like her adopted father, FireCoral. She has a red notebook, just like her fathers, that contains a collection of medicine recipes and medical diagrams. She loves her notebook and takes it everywhere, adding to it every chance she gets. When she is old enough, she will join her father as a doctor in the clan. For now, she has to settle for being an observer with patients. But her father does let her assist him in making up medicines and elixirs.

When she is not hanging around her fathers office, she can be found with her best friend Bioluminessie. They like to explore the deepest parts of the reef on the inside of the atoll. (Skellyfish is not allowed to venture to the outside of the atoll without an adult yet.) Skellyfish hopes to discover some new plant or animal that can be used in some magnificent cure she will develop some day. She has big dreams of being able to help dragons all over Sornieth.

Fav Color:

Red


Fav Foods:


CYOA
~ Return to the beginning of the CYOA ~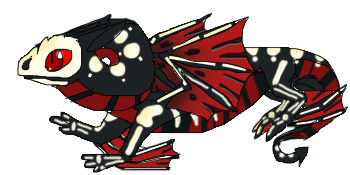 Came to the reef with Metallic, Alloy and common eyes.
Adopt by
EchoDino (#395117)
, Egg adopt by lycheejelly (#397304)
Click or tap a food type to individually feed this dragon only. The other dragons in your lair will not have their energy replenished.
Feed this dragon Insects.
This dragon doesn't eat Seafood.
This dragon doesn't eat Plants.
Exalting Skellyfish to the service of the Earthshaker will remove them from your lair forever. They will leave behind a small sum of riches that they have accumulated. This action is irreversible.
Do you wish to continue?
Names must be longer than 2 characters.
Names must be no longer than 16 characters.
Names can only contain letters.
Names must be no longer than 16 characters.
Names can only contain letters.