Click or tap to view this dragon in Predict Morphology.
Expand the dragon details section.
Collapse the dragon details section.
---
Personal Style
Ancient dragons cannot wear apparel.
Level 6 Gaoler
---
Biography
Latterlig Avindfull
He/Him
Founder and Leader of Hagebyen
"All dragons are deserving of trust. You are welcome here."
---
Something strange...
June 8th, 2019
Latterlig had heard the news of Gaolers returning to Sorienth. The clan prepared for any new arrivals with baited breath; excited and scared.
They didn't expect their founders to transform overnight.
---
Latterlig came into the world a Wind tundra full of curiosity and optimism. He met Sjel, another tundra, and fell in love. They founded their clan, and took in wandering dragons.
Eventually, Latterlig found that he fit in more with the light flight and moved his clan there. They created the city-state of Hagebyen, meaning
garden city,
and thrived as a group. Latterlig and his large family live in a house surrounded by beautiful gardens and orchards that are open to the public.
dragon share entries:
custom progenitor
thank you so much to
Rinny
for this apparel edit!!
---
Partner(s)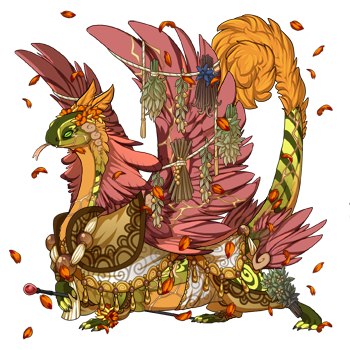 Familiar: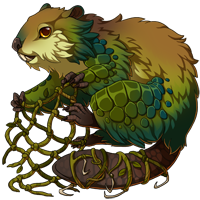 Nedbør is lively and physically affectionate. He can always tell what Latterlig's emotional state is, and comforts him accordingly.
---
All Dragons Are Gay!
Information on this dragon's sexuality and gender identity.
Gender
Trans Man!
Trans man (ftm): assigned female at birth (afab) and identifies as male.
Sexuality
Queer!
Queer is an umbrella term for the LGB+ community, but is also used as an identity itself. Latterlig also identifies as gay, but queer feels better for him.
---
Latterlig
this accent might be nice
Click or tap a food type to individually feed this dragon only. The other dragons in your lair will not have their energy replenished.
This dragon doesn't eat Insects.
This dragon doesn't eat Seafood.
Plant stocks are currently depleted.
Exalting Latterlig to the service of the Lightweaver will remove them from your lair forever. They will leave behind a small sum of riches that they have accumulated. This action is irreversible.
Do you wish to continue?
Names must be longer than 2 characters.
Names must be no longer than 16 characters.
Names can only contain letters.
Names must be no longer than 16 characters.
Names can only contain letters.