Dragon Lair
Nesting Grounds
Gather Items
Clan Profile
Hoard
Messages
Merch
Marketplace
Auction House
Trading Post
Crossroads
Custom Skins
Fairgrounds
Coliseum
Dominance
Dustcarve Dig
Forums
Dev Tracker
Which Waystone
World Map
Search
Dressing Room
Scrying Workshop
Game Database
Encyclopedia
Media
Support
Click or tap to view this dragon in Predict Morphology.
Expand the dragon details section.
Collapse the dragon details section.
---
Personal Style
Apparel
Skin
Scene
Measurements
Genetics
Beige
Jaguar
Blackberry
Rosette
Stone
Lace
Level 7 Tundra
---
Biography
Uh-oh, looks like this Pretty Little Floof wandered a little too far from her home lair (#353403, KalicoKat), and now she's off to see the world! If ever you feel the need to exalt, she'd really appreciate it if you could just return her to the home lair, or to the 'Dragons Off To See The World' thread, here. This is not necessary, but she would be very grateful!



KalicoKat
(#353403)
Galechka arrived at Bronze Willow on the 26th of May, 2018. While here, she made friends with a Hedgehog! She grew up into an adult, and her patterns developed from triple Basic into Jaguar and Rosette. Galechka also encountered many beasts in the coliseum and grew to Level 7. Her favorite item from my lair's hoard is her White and Gold Flair Scarf!
After some time, Galechka decided that it was time to move on to another clan, so she left to see the world!
Fishtailholly
(#114902)
Galechka arrived at the clan and joined us for a while, taking in what its like to live with a Lightning clan. She made a few friends, but finally felt it was time to move on to more adventures.
RoyalSorceress
(#36458)
Following a wide arc along the beaches and waterways around the Ashfall Waste and Windswept Plataea, Galechka arrived next in the Starfall Isles. There, she had the pleasure of meeting a rather quirky
priest
. The Noc was rather boisterous and cheery; and had a knack for copying her mannerisms in little to no time of conversation. She enjoyed his riveting preach about the equality of love dragonkind should share to each other, and to beastkind. He seemed genuine in his concern about the current state of Sorenith, and offered Galechka a blessing that she accepted.
Before leaving, she accepted a novel from the priest's wife, who introduced herself as
Kalila
and stated that her husband Erasmus (oh, that was his name!) could be a bit carried away at times. With a quick reassurance that all was well and she rather enjoyed the sermonize and conversation, the Tundra went on her way.
Oh! This novel seems to have a rather helpful set of information about the Starfall Isles! There's plenty of pictures of edible and poisonous plants, a guide on what your best chances are to escape the Starwood Strand, information about the land structures, maps, and more. Neat!
Morningstar1
(#35128)
Galechka spent a few weeks in the morningstar1 clan finding the company of Dyn a local imperial quite good company, in a moment of passion they ended up having three offspring together but alas it wasn't ment to be and Galechka found her heart wondering so she decided to leave in search of other adventures.
Gilraenn
(#90682)
Galechka spend quite a long time at the
Bannered Mare
, in the
Fortress of Ends
and had a great time there despite the cold! but now comes the time to move on, new adventures await!
Lun
(#72649)
I found myself staying with the
Doriathian Clan
in the
Behemoth
what a beautiful place this is, so much to see!
After a while I became good friends with a dragon warlock that lived inside one of the oak trees there, named
Alfirin
he was a funny guy, he thought me about different flowers and snakes! He loved snakes.. and he gave me a pair of goggles for during my flights as a parting gift, I love them!
Time to continue my journey, I wonder what beautiful and exciting place I'll visit next~
Namea
(#408513)
With a flump of feathers and fluff Galechka landed in a clearing surrounded by swaying bamboo. The winds were far too powerful for her to continue flying and she sat for a moment to ponder her next move. Taking in the ruffled mess that was her coat she sighed and got to work putting things right.
A rustle in the bamboo caught her ears and she looked up from her task suspiciously only to see a small fae dragon with kind eyes flittering towards her.
"Welcome! My name is Zephyr and you've wandered into our clan's territory...seems to be happening a lot lately!" Her voice was cheerful with no hint of malice and it put Gal at ease almost immediately.
"Ah...well I'm Galechka...my apologies for landing here so suddenly. I was blown off course..." Her words trailed off in slight embarassment.
Zephyr only smiled again and nodded. "Well then, why not stay with us a while before moving on?"
The tundra dragon was happy to take the little matriarch up on her offer and followed her to a hollow with a wide variety of dragons. Here she spent a few days, recovering from the wind's rage and getting to know the others who lived in this clan. Soon enough it was time to go and Gal left with a grin and some new friends after promising to write.
KalicoKat
(#353403)
After wandering and visiting new faces and clans for a while, Galechka became homesick. She and her little hedgehog friend came back home to visit Bronze Willow and all of her old friends here for a while before setting off again. She found the deep forest calming, and decided to stay for a while.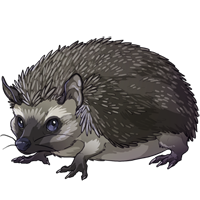 Click or tap a food type to individually feed this dragon only. The other dragons in your lair will not have their energy replenished.
This dragon doesn't eat Insects.
This dragon doesn't eat Meat.
This dragon doesn't eat Seafood.
Exalting Galechka to the service of the Gladekeeper will remove them from your lair forever. They will leave behind a small sum of riches that they have accumulated. This action is irreversible.
Do you wish to continue?
Names must be longer than 2 characters.
Names must be no longer than 16 characters.
Names can only contain letters.
Names must be no longer than 16 characters.
Names can only contain letters.