Dragon Lair
Nesting Grounds
Gather Items
Clan Profile
Hoard
Messages
Merch
Marketplace
Auction House
Trading Post
Crossroads
Custom Skins
Fairgrounds
Coliseum
Dominance
Dustcarve Dig
Forums
Dev Tracker
Which Waystone
World Map
Search
Dressing Room
Scrying Workshop
Game Database
Encyclopedia
Media
Support
Hello children I am the Fairy Squad Mother
Click or tap to view this dragon in Predict Morphology.
Expand the dragon details section.
Collapse the dragon details section.
---
Personal Style
Hatchling dragons cannot wear apparel.
Level 1 Coatl
---
Biography
Another permabab but IT'S WORTH IT! She cost me so much ;v; however I got her for free as a ridgie from Isurani so thenk for that :3

This one is my mascot, but she's not really an anthro per se. She can talk and hold things and stuff but that's about it!
---
NAME: Doreen 'Noot' McBeans
NICKNAMES: Noot, Mama Noot, Commander Noot Noot, PipNoot
GENDER: Female
SPECIES: Jellybean Dranguin
ALIGNMENT: Chaotic Good
ORIGIN: Noot McBeans is a Jelly-Bean Dranguin from the farthest reaches of Stewart Island in New Zealand. She lives in a little rock crevice house all by herself but she gets on just fine! A dragon threw up molten jellybeans on a penguin egg and the baby inside mutated and hatched into Noot. Explains her love of explosives...
CHARACTERISTICS:
- Has a RPG launcher in her bathroom cupboard (named Rory)
- Messy
- A tough cookie
- Mom FriendTM
- Smells like blueberries
- Capable of flight
- Cartoon squish physics apply
- Fave Food: Fish


INSPIRATION:
- The Little Blue Penguin or 'Fairy Penguin'
- Jelly Beans
- Dragons

So Noot here kinda originated back in about 2016. My original nickname came from Pingu and also a meme of a golden retriever smooshed against a wall in about 2014. Noot Noot became Mama Noot since I'm the eldest of that particular group, and well, Chiki had a 'sona named Milky at the time ( a kind of dog-lamb hybrid) so I thought why not make a Mama Noot cx
---
ORIGINAL LOOK:
Ridgeback: Cherub, Paint, Underbelly
COMPLETED: 22nd April 2018
(Everything purchased help I am broke ;v;)
---
Super Cute!
by
Helbram
All the love!
by
MournfulMerchant
Full Flat OC Design
by
DragonessIgnacia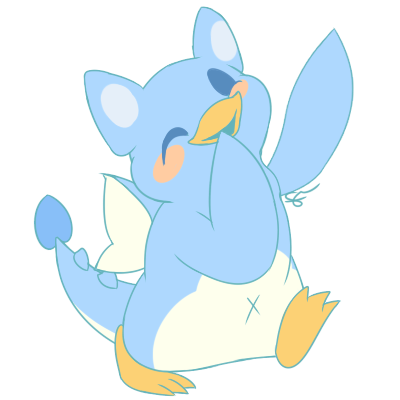 OC Doodle
by
SilverPug
Adorable Doodle!
by
necroticLuminary
Nootsum
by
Milkynan
---
Thanks Sandwichcats for the Piplup! It's super cute and Christmassy ;v;
Click or tap a food type to individually feed this dragon only. The other dragons in your lair will not have their energy replenished.
This dragon doesn't eat Insects.
This dragon doesn't eat Meat.
Feed this dragon Seafood.
This dragon doesn't eat Plants.
Exalting NootMcBeans to the service of the Stormcatcher will remove them from your lair forever. They will leave behind a small sum of riches that they have accumulated. This action is irreversible.
Do you wish to continue?
Names must be longer than 2 characters.
Names must be no longer than 16 characters.
Names can only contain letters.
Names must be no longer than 16 characters.
Names can only contain letters.