Click or tap to view this dragon in Predict Morphology.
Expand the dragon details section.
Collapse the dragon details section.
---
Personal Style
Apparel
Skin
Scene
Measurements
Genetics
Sky
Vipera
Denim
Seraph
White
Okapi
Level 1 Coatl
Lineage
Parents
Offspring
---
Biography
Ἑρμης
Messenger of the Gods







"HERMES was the great Olympian God of animal husbandry, roads, travel, hospitality, heralds, diplomacy, trade, thievery, language, writing, persuasion, cunning wiles, athletic contests, gymnasiums, astronomy, and astrology. He was also the personal agent and herald of Zeus, the king of the gods. Hermes was depicted as either a handsome and athletic, beardless youth, or as an older bearded man. His attributes included the herald's wand or kerykeion (Latin caduceus), winged boots, and sometimes a winged travellers cap and chlamys cloak."

In addition to this, Hermes is also often associated with the caduceus in the form of a staff with two entwined snakes, which is an image he often shares with Asclepius, the god of medicine, as both are attributed this common icon which can still be seen as a symbol of healing or a place of healing.

Hermes was the son of Zeus and Maia, and the most famous myth of him is of his birth. Right after Hermes was born, he left the crib and wandered off into a field where he eventually found some cattle belonging to Apollo. Hermes decided to steal the cattle, and put boots on all their feet to hide their hoof prints. He brought them to a cave to hide them, and sacrificed two. From their hides and a tortoiseshell, he crafted a new instrument to pass the time. Meanwhile, Apollo was searching everywhere for his lost cattle, and when he found out it had been Hermes (who, by the way, is still an infant at this point) he was furious. He demanded them back, and wanted compensation. For this, Hermes gave him his new instrument to calm Apollo's wrath. After this, the two gods became friends. For his swiftness, Zeus awarded Hermes the position as his personal messenger and courier of all the gods.

Hermes also plays a role in guiding souls to the Underworld, and is one of the only Olympian gods to go there frequently.
Drawn by me!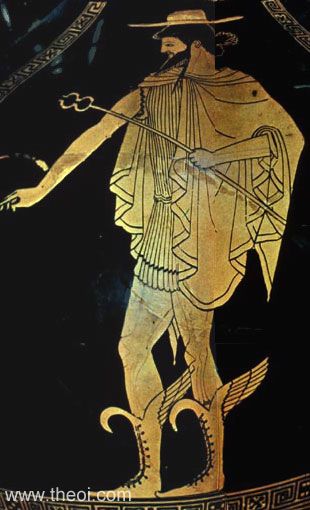 For more mythology surrounding Hermes, read here.
Click or tap a food type to individually feed this dragon only. The other dragons in your lair will not have their energy replenished.
This dragon doesn't eat Insects.
This dragon doesn't eat Meat.
Feed this dragon Seafood.
This dragon doesn't eat Plants.
Exalting Hermes to the service of the Lightweaver will remove them from your lair forever. They will leave behind a small sum of riches that they have accumulated. This action is irreversible.
Do you wish to continue?
Names must be longer than 2 characters.
Names must be no longer than 16 characters.
Names can only contain letters.
Names must be no longer than 16 characters.
Names can only contain letters.