Click or tap to view this dragon in Predict Morphology.
Expand the dragon details section.
Collapse the dragon details section.
---
Personal Style
Apparel
Skin
Scene
Level 1 Imperial
---
Biography
Keeper of Arcane Magic



A dragon that is very bold at heart. Seemingly simplistic personality that contrasts her extravagant appearance. Very rigid and frank but this is because of internal complexity that she must shield from other dragons. Only she may know the secrets of the Arcanist... And she has been through hell trying to keep that promise, growing tougher on the outside as a result. However, she can relax around her Clanmates and show her affection in small ways. And that's all they ever ask of her.


---
After the Fall of the Keepers, they were left in shambles; lost, wounded and without a purpose. The Arcanist had stripped them of their powers and duty for their great betrayal. In a crater by the Starwood Strand, their victory was not victorious, but plagued by constant winds and storms that signified what in the end, was truly a defeat.

However, the rain washed away the bloodshed, and healed the wounds of the dying. And within the depths of the forest, perched by the last shard of Arcane magic, was Adhara, a mere hatchling. As the broken Keepers with their greyed coats and hearts watched from afar, this dazzling dragon who sparkled and radiated warm pinks against the darkness seemed to be their answer for everything.

Since then, Adhara has been the only dragon who connects the Keepers to their promise to the Arcanist, inextricably bound to the last remnant of their original Arcane magic. In fact, some believe that she was sent by the Arcanist himself, as a sign of forgiveness, a sign that there war was truly over.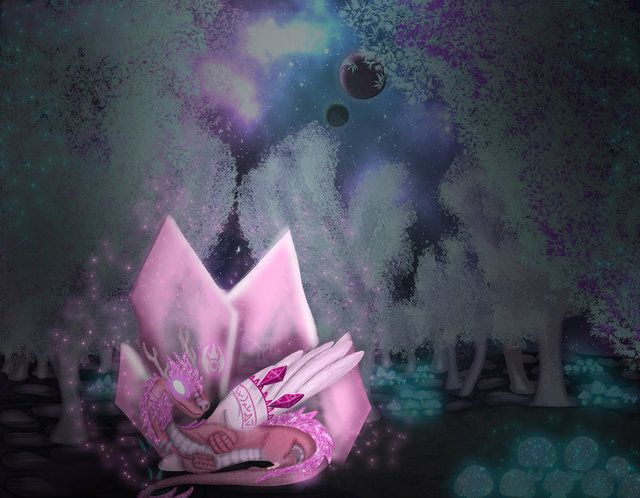 Blown away by this amazing art by
OzRunner
---
MBTI

INFP
Mediator

Ennegram

9

Astrology

Sun and Sky: Virgo
Moon and Stars: Virgo

Ruling Planets

1 Neptune
2. Venus

Crystals

Rose Quartz
Pink Fire Opal
Rhodochrosite

Tarot

The Empress
---
The Keepers Instagram by
Maevepanda
Click or tap a food type to individually feed this dragon only. The other dragons in your lair will not have their energy replenished.
Feed this dragon Insects.
Feed this dragon Seafood.
Exalting Adhara to the service of the Arcanist will remove them from your lair forever. They will leave behind a small sum of riches that they have accumulated. This action is irreversible.
Do you wish to continue?
Names must be longer than 2 characters.
Names must be no longer than 16 characters.
Names can only contain letters.
Names must be no longer than 16 characters.
Names can only contain letters.