Gryphling's Clan
Bada-bing Bombadil!
Clan Info
New to You Old Dragon Rescue:
Giveaway
/
Sales
/
Nature
Hen & Chicks Hatchery
Art by Livestraes
I only exalt my own babies. If I buy a dragon from you that I later decide not to keep, I'll either contact you or try to rehome it. :)
---
News:

Busy irl, pls be patient with me.
---
About Clan Greenplume:

A (mostly) peaceful found family of dragons who left the Morganite Plateau for greener pastures. Their current residence is the Halcyon Isle: the less-populated southern region of the Worldedge Wetlands, chosen for its agricultural potential and distance from inter-flight conflicts.
---
About Me:

You can call me Gryph (she/her).

Biology, art, and geography student. Lover of birds, paleontology, animation, and tales of the paranormal.
---
Associates:
---
| | |
| --- | --- |
| | Wishlist: |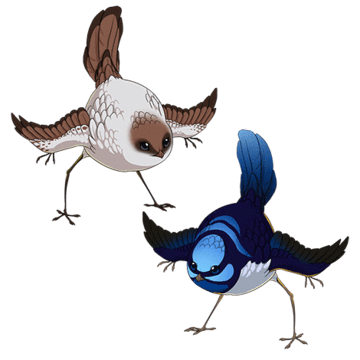 Recent Comments
thank you for buying one of BMO's hatchlings!! BMO is a precious dragon to me! :) I adore fandragons so I'm delighted she'll have a loving home with you!
Heheh you're welcome, I just finished rereading the first book and had to check if there were any fandergs out there! There's actually more than I expected, a few that are wildclaws but I like that you made him a fae, they've got those perfect big eyes <3
Hi! I was just gonna comment on your Ampersand fandragon (love him!) but then I saw your RWBY fandergs too! The scene you gave Weiss made me laugh lol
Delete this comment.
Report this comment.
Add this player to your Block list.
This user is currently active.
This user is currently idle.