Last night in Thrage's economy thread, several people pointed out how FR is heavily weighted towards who spend many hours a day on it, as opposed to casual players. I tried to think of several ideas that could be implemented that would give casual players more opportunities to obtain treasure and items, without being easy to grind. While most of my ideas were admittedly boring, I felt one merited further thought- gardening. Full of creative energy, I stayed up for several hours coming up with and refining ideas for how it would function. I feel like I came up with a system that rewards players healthily for putting effort into their garden without being too time consuming to tend to, but as I came up with these ideas in the space of a night and have never been a dev on any site, much less with a gardening system, I'd love input on how it could be made better*.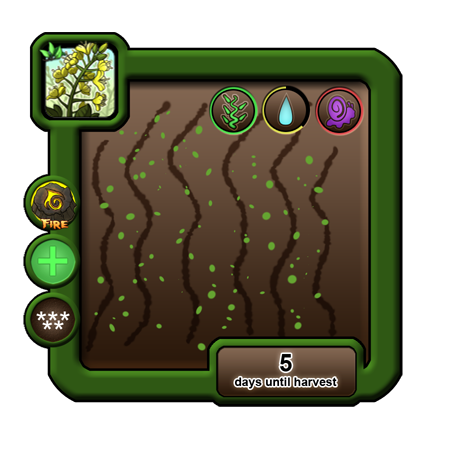 Each user starts with six plots. They can buy more, but plots get progressively more expensive the more you get- (10000+100n)(n/2), where n is the current number of plots minus five. This means to get their first new plot, it will cost 5050 TR - easily affordable in an hour of fairgrounds- but their 50th new plot (56th total) will cost 375k TR, and their 100th, 1mil, effectively limiting how many any one person will have through prohibitive costs with limited returns, rather than a hard cap.
Seeds can be found while forage or scavenging, dropped as loot from the coliseum, bought from the marketplace, or obtain through other, more limited means such as holiday events. Each method draws from a different set, so there are some seeds you can only get from one method, and some seeds you can get from a couple but not all, etc. To keep the cost of art down, there could be just base image of a seed packet, which has a square on the front where the image of the item they grow is placed. Initially, plants grown in gardening can be plants already obtainable through foraging, so a fairly full selection can be offered right off the bat; then as time goes on, gardening-specific plants can be introduced. Depending on how common a plant is, seeds are assigned a base harvest value that determines how many items it will produce once fully grown in harvested, but the actual number of items produced is influenced heavily by a number of multipliers linked to how well a user takes care of a plant.
*While, obviously, final function would be up to the devs, it seems prudent to me to lay out a full idea that could be easily worked into code, rather than just "I want thing."
(Please note that I tried to post this once before and it did not seem to go through, likely because of length, though the error message I got was blank. I have divided my original post into three parts, the next two of which I will post in this thread under the first post. If my original attempt shows up in the forum under a delay, I apologize for double-posting.)